Commemorating 200 years of Newspaper and Postal Service
Type: Official First Day Cover
Date: 26th January 1984
Stamps: 12c Joseph Stockdale 1754-1803; 30c Bermuda's first newspaper; 40c Stockdale's Postal Service; and $1 The 'Lady Hammond'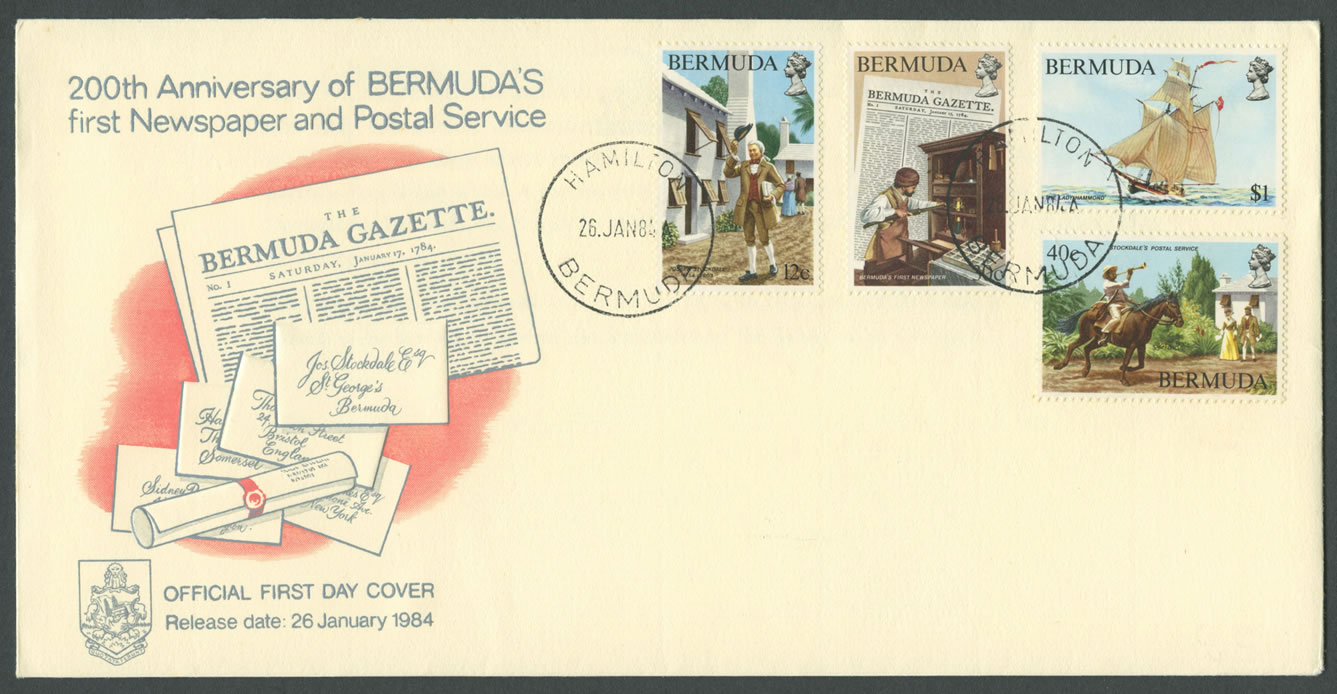 CDS: 26.JAN84A HAMILTON BERMUDA
Cachet: 200th Anniversary of BERMUDA's first Newspaper and Postal Service / OFFICIAL FIRST DAY COVER Release date: 26 January 1884 with the first issue of The Bermuda Gazette, letters and Arms of Bermuda (front). Bermuda map and magnifying glass (reverse)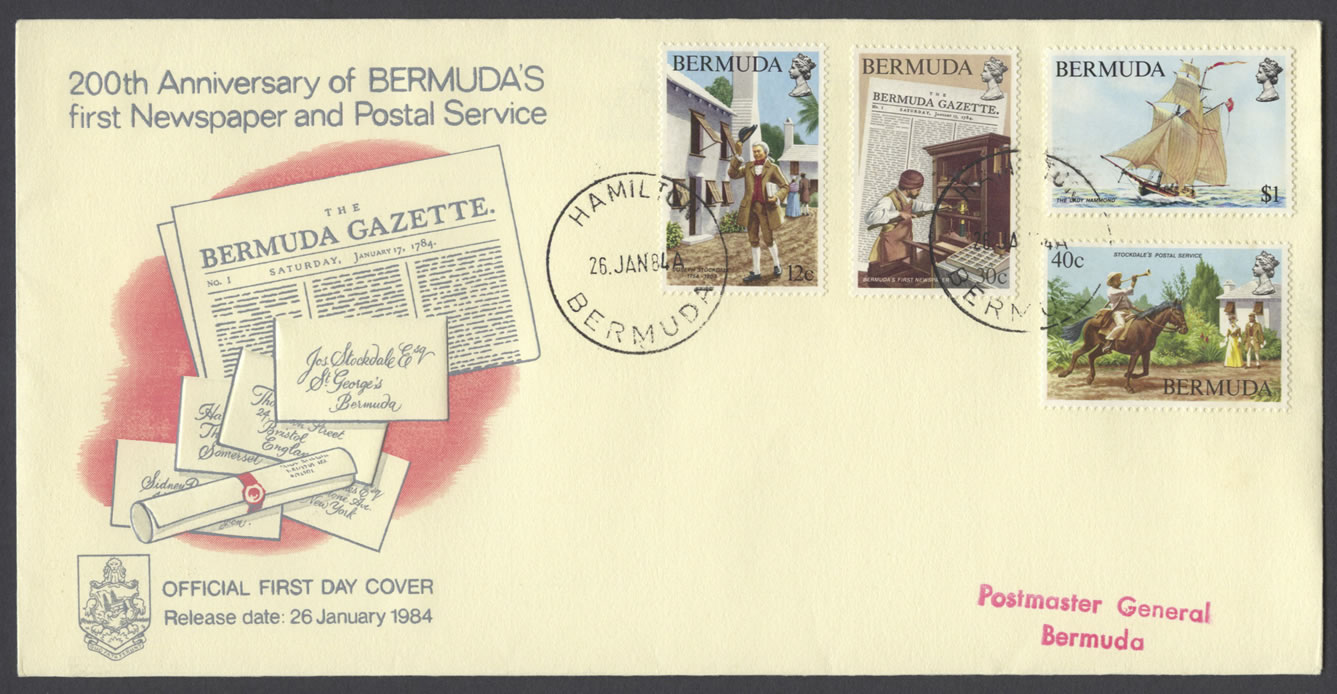 CDS: 26.JAN84A HAMILTON BERMUDA
Cachet: As above
Address: Postmaster General Bermuda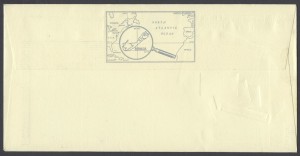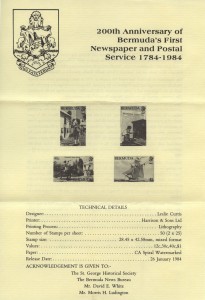 200th Anniversary of Bermuda's First Newspaper and Postal Service 1784-1984
TECHNICAL DETAILS
Designer: Leslie Curtis
Printer: Harrison & Sons Ltd
Printing Process:  Lithography
Number of Stamps per sheet: 50 (2 x 25)
Stamp size: 28.45 x 42.58mm, mixed format
Values: 12c,30c,40c,S1
Paper: CA Spiral Watermarked
Release Date: 26 January 1984
ACKNOWLEDGEMENT IS GIVEN TO:-
The St. George Historical Society
The Bermuda News Bureau
Mr. David E. White
Mr. Morris H. Ludington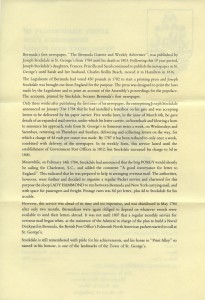 Bermuda's first newspaper, "The Bermuda Gazette and Weekly Advertiser", was published by Joseph Stockdale in St. George's from 1784 until his death in 1803. Following this 19 year period, Joseph Stockdale's daughters, Frances. Priscilla and Sarah continued to publish the newspaper in St. George's until Sarah and her husband, Charles Rollin Beach, moved it to Hamilton in 1816.
The Legislature of Bermuda had voted 450 pounds in 1782 to start a priming press and Joseph Stockdale was brought out from England for the purpose. The press was designed to print the laws made by the Legislature and to print an account of the Assembly's proceedings for the populace. The accounts. printed by StockdaIe. became Bermuda's first newspaper.
Only three weeks after publishing the first issue ofhis newspaper. the emerprisingJoseph Stockdale announced on January 31st 1784 that he had installed a letterbox on his gate and was accepting letters to be delivered by his paper carrier. Five weeks later, in the issue of March 6th, he gave details of an expanded mail service, under which his letter carrier, on horseback and blowing a horn to announce his approach, rode from St. George's to Somerset twice a week, on Wednesdays and Saturdays, returning on Thursdays and Sundays, delivering and collecting letters on the way, for which a charge of 4d each per ounce was made. By 1787 it has been reduced to only once a week, combined with delivery of the newspaper. In its weekly form, this service lasted until the establishment of Government Post Offices in 1812, but Stockdale increased his charge to Sd in 1800.
Meanwhile, on February 14th 1784, Stockdale had announced that the brig PORGY would shortly be sailing for Charleston, S.C., and added the comment "A good conveyance for letter to England". This indicated that he was prepared to help in arranging overseas mail. The authorities, however, went further and decided to organise a regular Packet service and chartered for this purpose the sloop LADY HAMMOND to run between Bermuda and New York carrying mail, and with space for passengers and freight. Postage rates was 8d per letter, plus 4d to StockdaIe for his trouble.
However, this service was ahead of its time and too expensive, and was abandoned in May 1784 after only two months. Bermudians were again obliged to depend on whatever vessels were available to send their letters abroad. It was not until 1807 that a regular monthly service for overseas mail began when, at the insistence of the Admiral in charge of the plan to build a Naval Dockyard in Bermuda, the British Post Office's Falmouth North American packets started to call at St. George's. Stockdale is still remembered with pride for his achievements, and his house in "Print Alley" so named in his honour, is one of the landmarks of the Town of St. George's.