Commememorating The Queen Mother's 80th Birthday
Date: 4th August 1980
Stamp: 25c 80th Birthday of H.M. Queen Elizabeth The Queen Mother 4th August 1980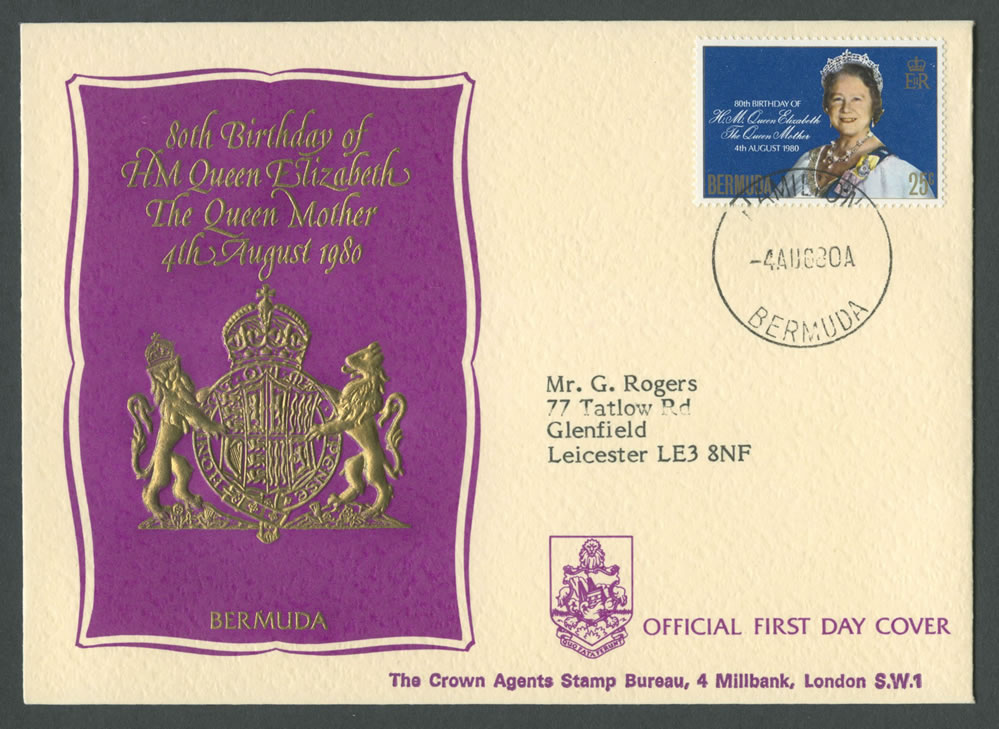 Type: Official First Day Cover
CDS: -4AUG80A HAMILTON BERMUDA
Cachet: Printed – 80th Birthday of HM Queen Elizabeth The Queen Mother 4th August 1980 BERMUDA OFFICIAL FIRST DAY COVER. Reverse – Bermuda map with magnifying glass
Address: The Crown Agents Stamp Bureau, 4 Millbank, London SW1
Liner
On the 4 August, 1980 Her Majesty Queen Elizabeth The Queen Mother celebrates her 80th birthday and this occasion will be marked by Bermuda and other postal administrations with the issue of a commemorative stamp.
Born Lady Elizabeth Bowes-Lyon, she was the ninth of the 10 children of the Countess of Strathmore and Kinghome whose family had distinguished connections going deep into Scottish history. Much of her childhood was spent at St. Pauls Walden Bury in Hertfordshire, Streatlam: Castle, Co. Durham, or at Glamis Castle in Angus, Scotland. It was at Glamis Castle, which was used as a convalescent hospital during World War I, that the young Lady Elizabeth helped her mother and sister care for the wounded soldiers.
On April 26, 1923, Lady Elizabeth married HRH The Duke of York and their ftrst house was White Lodge in Richmond Park. In 1931 King George V gave them The Royal Lodge in Windsor Great Park where they remained until the accession of King George VI to the throne, following the abdication of King Edward VIII.
The Queen Mother was a very popular consort and remains well loved throughout the Commonwealth. Her Majesty refused to leave London during the worst years of the war and shared in the danger with several narrow escapes.
Her Majesty continued her active life after the death of the King in 1952 and by the Regency Act of 1953 was made eligible to continue acting as Counsellor of State: The Queen Mother has completed several Commonwealth tours and continues to fulfil many public duties.
She is a patron of over 300 organisations and is connected with 22 naval, military and R.A.F. units, as well as being Lord Warden of the Cinque-Ports.
TECHNICAL DETAILS
Designer: Harrisons Studio (Based on a photograph by Norman Parkinson).
Printer: Harrison & Sons (High Wycombe) Limited
Process: Lithography
Size: 28.45·x 42.58 mm
Set Size: In sheetlets of 9
Paper: CA Watermarked
Value: 25c
Release Date: 4.8.80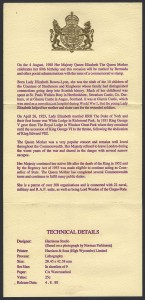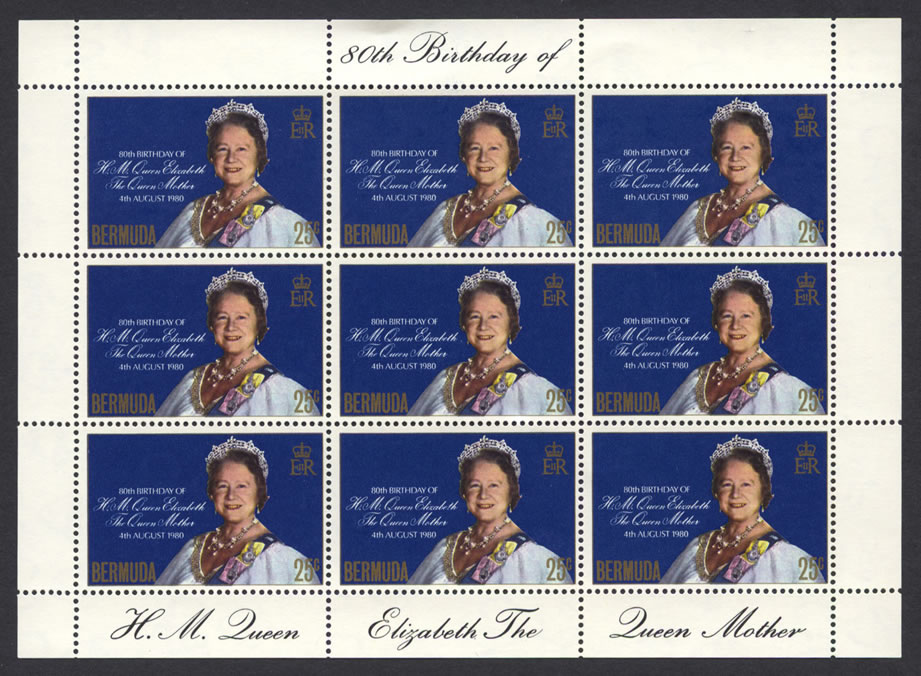 Set size: Sheetlet of 9
About the Omnibus issue
Key facts
Design: Harrisons Studio
Printer: Harrison & Sons Ltd
Process: Lithography
Perforation: 14
Watermark: Multiple Crown CA Diagonal
Co-ordinators: Crown Agents
Issuing territories: 15 standard
Number of stamps: 15 plus 15 sheetlets
80th Birthday of HM Queen Elizabeth The Queen Mother. This set features different photographs of the Queen Mother at various stage of her life. Quite an attractive and collectible set with not too many varieties to collect.
Standard issue – list of issuing territories
Ascension
Bahamas
Belize (+ souvenir sheet)
Bermuda
Cayman Islands
Gambia
Gibraltar
Hong Kong
Pitcairn Islands
Samoa
St. Helena
St. Lucia
St. Vincent
Soloman Islands
Tristan da Cunha
*All have a matching sheetlet of 9 stamps