140 years since the introduction of The Penny Post
Date: 25th February 1980
Stamps: 8c Perot Provisional and Penny Black; 20c Perot Provisional and Rowland Hill; 25c Perot Provisional and early letter and 50c Perot Provisional and PAID 1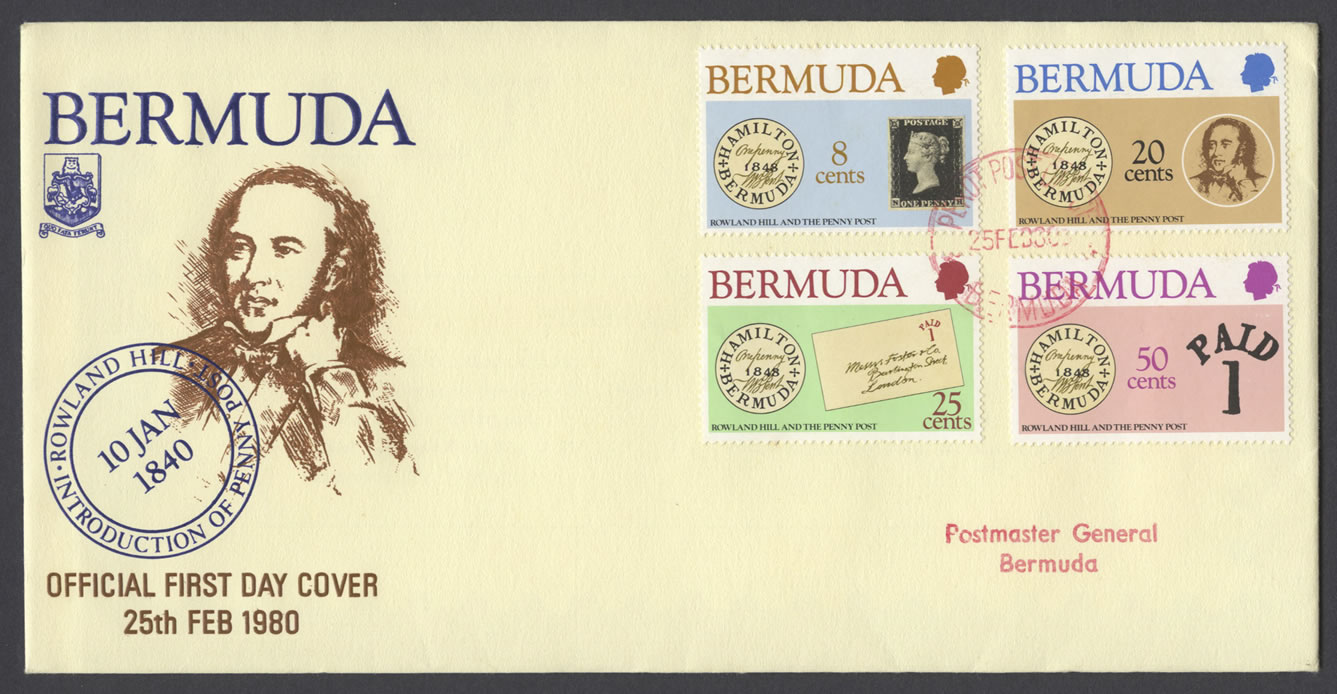 Type: Official First Day Cover
CDS: 25FEB80B PEROT POST OFFICE BERMUDA
Cachet: BERMUDA OFFICIAL FIRST DAY COVER 25th FEB 1980 / 10 JAN 1840 ROWLAND HILL • INTRODUCTION OF PENNY POST with Arms of Bermuda
Address: Crown Agents Stamp Bureau, 4 Millbank, London SW1 / Postmaster General Bermuda
Liner
BERMUDA
ROWLAND HILL STAMP ISSUE
The adhesive postage stamp is such an ordinary article in this day and age that most of us take it for granted. One seldom spares a thought as one moistens the back and sticks on the envelope for the tiny piece of paper, nor wonders how and why such a thing came into being.
Rowland Hill was born in Kidderminster on 3 December 1795 and his life was one continuous struggle from his appointment as Secretary to the Post Office to his retirement. During that period many ideas and projects entered his mind, but from 1836 to 1864 his thoughts were almost entirely devoted to postal questions and the various ramifications.
Hill produced a pamphlet entitled "Post Office Reform" in which he condemned the unwieldy methods involved in transmitting letters and proposed the uniformed rate that enabled all letter to be prepaid.
Hill confidently submitted his proposals to the Government and on 17 August 1839 Queen Victoria was graciously pleased to give her Royal Assent to the Bill authorising the establishment of the Penny Post. On 6 May 1840 the first postal adhesive label bearing Her Majesty's portrait and the words "Postage One Penny" was placed on sale in Her Majesty's Post Offices. Sir Rowland Hill died nn 27 August 1879.
THE STAMPS
8 CENT BROWN
This design depicts the Rowland Hill Penny Black, together with a facsimile of an 1848 Hamilton Bermuda postmark.
20 CENT BLUE
Here the Hamilton, Bermuda postmark is shown together with a portrait of Sir Rowland Hill.
25 CENT RED
This design depicts a cover bearing the Bermuda Perot 1d postage cancellation, together with the 1848 Hamilton, Bermuda postmark.
50 CENT MAGENTA
This design shows the Perot 1d cancellation in detail, together with once again the 1848 Hamilton, Bermuda postmark.
TECHNICAL DETAILS
Designer: John Waddington Studio
Printer: Enschede en Zonen, Haarlem, Holland
Printing Process: Lithography
No. of stamps per sheet: 50 (2 x 25)
Stamp Size: 31.9 x 48 mm
Paper: CA spiral watermark
Release date: 25 February 1980
Withdrawal date: 28 February 1981
Printer of First Day Cover: BC Deere, Cardiff UK
About Rowland Hill
Sir Rowland Hill KCB, FRS (3 December 1795 – 27 August 1879) was an English teacher, inventor and social reformer. He campaigned for a comprehensive reform of the postal system, based on the concept of Uniform Penny Post and his solution of prepayment, facilitating the safe, speedy and cheap transfer of letters. Hill later served as a government postal official, and he is usually credited with originating the basic concepts of the modern postal service, including the invention of the postage stamp.