Centenary of UPU Membership
Date: 20th June 1977
Stamps: CENTENARY OF U.P.U MEMBERSHIP 5c Stockdale House, St. George's c. 1784-1812; 15c Perot Post Office; 17c St. George's Post Office c. 1860; 20c Old General Post Office, Hamilton c. 1935; 40c New G.P.O Hamilton, 1967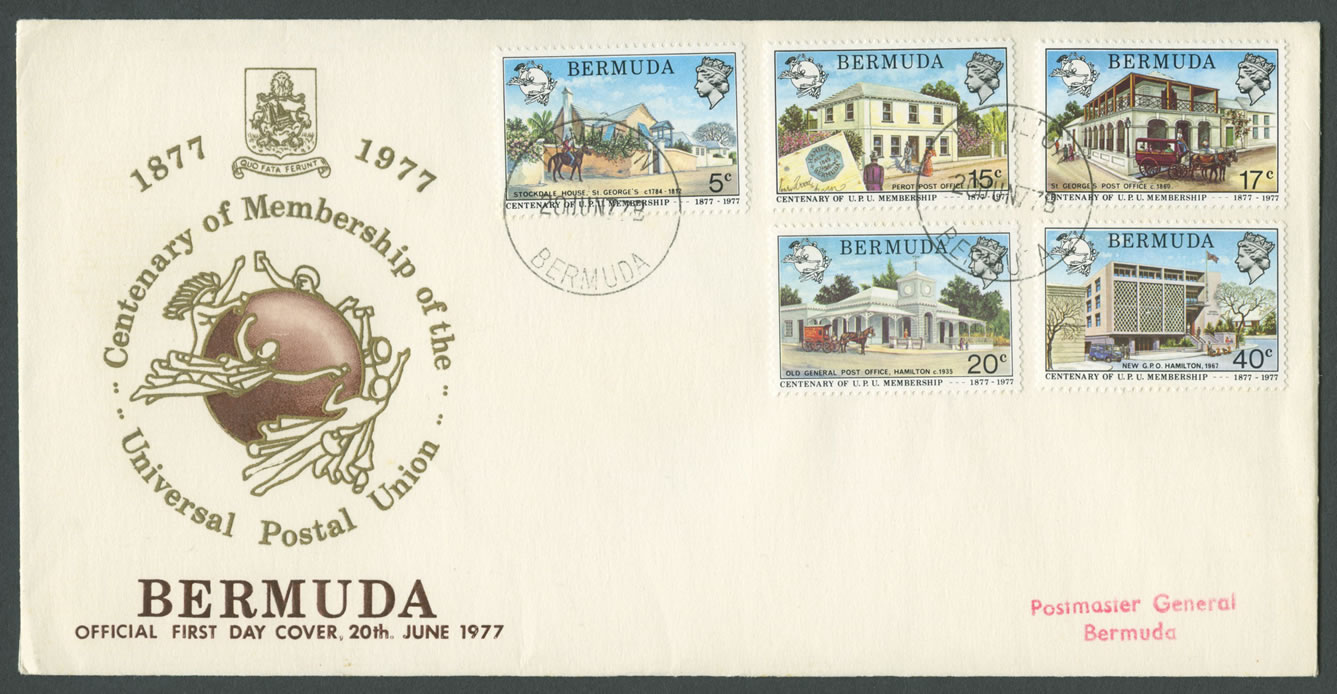 Type: Official First Day Cover
CDS: 20JUN77B HAMILTON BERMUDA
Cachet: 1877-1977 Centenary of Membership of the Universal Postal Union
Address: Postmaster General Bermuda
Liner
BERMUDA
Centenary of Membership of the Universal Posal Union
On the 20 June 1977 Bermuda will have been a member of the Universal Postal Union for 100 years. To commemorate this centenary the Government of Bermuda will issue a set of five postage stamps:-
5 cent Stockdale House also shown in this design is a horseman with his mail pouch and horn. The horn was blown to announce his approach. This method of delivery, Bermuda's earliest, was organised by Joseph Stockdale who was also the proprietor, printer and editor of the first newspaper in m the Islands: "The Bermuda Gazette".
15 cent Perot Post Office. William Bennet Perot, born 1791, was Postmaster of the City of Hamilton from 1818 to 1862. His own home served as the Post Office and he shared a room with his friend Mr Heyl, an apothecary. who often had to look after the Post Office, whilst Mr Perot was away. The normal practice was for people wishing to use the postal service to leave their letter and one penny postage in the Post Office. When Mr Perot was away, however, it was often difficult to establish who had paid and who had not. Mr Heyl suggested that Mr Perot should make twelve post marks on a sheet of paper and sell them for a shilling per sheet. Users of the postal service would then paste one stamp on to each letter thus eliminating any doubt as to whether or not prepayment had been made. Perot adopted this idea and used the official cancellation stamp but without the day and month of issue, added in his own handwriting "one penny" and his signature and thus in 1848 the now famous Perot postage stamp came into being.
17 cent St George's Post Office. This building dates back to the American War of Independence when it was a rather notorious prison. It is shown here, after being converted to a Post Office, with the Hamilton Mall Coach and driver outside.
20 cent Old General Post Office. This was completed In 1869 to replace Perot's Post Office and was used until 1967 just 2 years short of 100 years of Post Office Service. The building is now used as a magistrates court. The design includes the horse-drawn vehicle known as "The England Mail".
40 cent New General Post Office. This stamp depicts the New Post Office which was occupied in June 1967.
TECHNICAL DETAILS
Designer: Gordon Drummond
Printer: John Waddington of Kirkstall Ltd.
Process: lithography
Release date: 20 June 1977
Paper: CA Watermarked
Format: Horizontal, in sheets of 50 (2 x 50)
Printed by J.W. Dunn (PRINTERS) LTD. CHEAM, SURREY, ENGLAND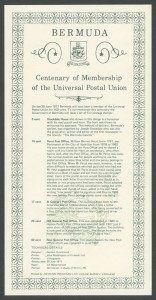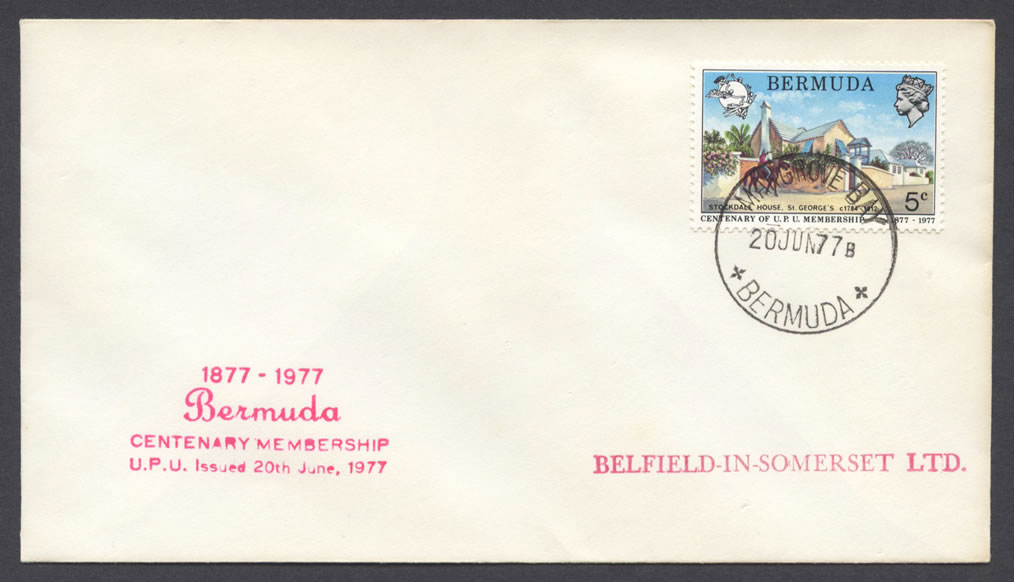 Type: First Day Cover
CDS: 20JUN77B MANGROVE BAY BERMUDA
Cachet: 1877-1977 Bermuda CENTENARY MEMBERSHIP U.P.U. Issued 20th June, 1977
Address: BELFIELD-IN-SOMERSET LTD.