Decimalisation of the Buildings Definitives
Date: 6th February 1970
Cachet: BERMUDA DECIMAL OVERPRINT FIRST DAY OF ISSUE FEBRUARY 6th, 1970
Stamps: 1c on 1d The Old Rectory, St. George's c.1730; 2c on 2d Church of St. Peter, St. George's; 3c on 3d Government House, 1892; 4c The Cathedral, Hamilton, 1894; 5c on 5d H.M. Dockyard; 6c on 6d W. B. Perot's Post Office, 1848; 9c on 1/6 Bermuda Cottage, c.1705; 12c on 1/- Christ Church, Warwick, 1719; 15c on 1/3 The City Hall, Hamilton, 1960; 18c on 1/6 H.M. Dockyard; 24c on 2/- Town of St. George; 30c on 2/6 Bermuda House, early 18th Century; 36c on 2/3 Bermuda House, c. 1710; 60c on 5/- The Colonial Secretariat, 1833; $1.20 on 10/- Old Post Office, Somerset, 1890; $2.40 on £1 The House of Assembly, 1815.
First Day Covers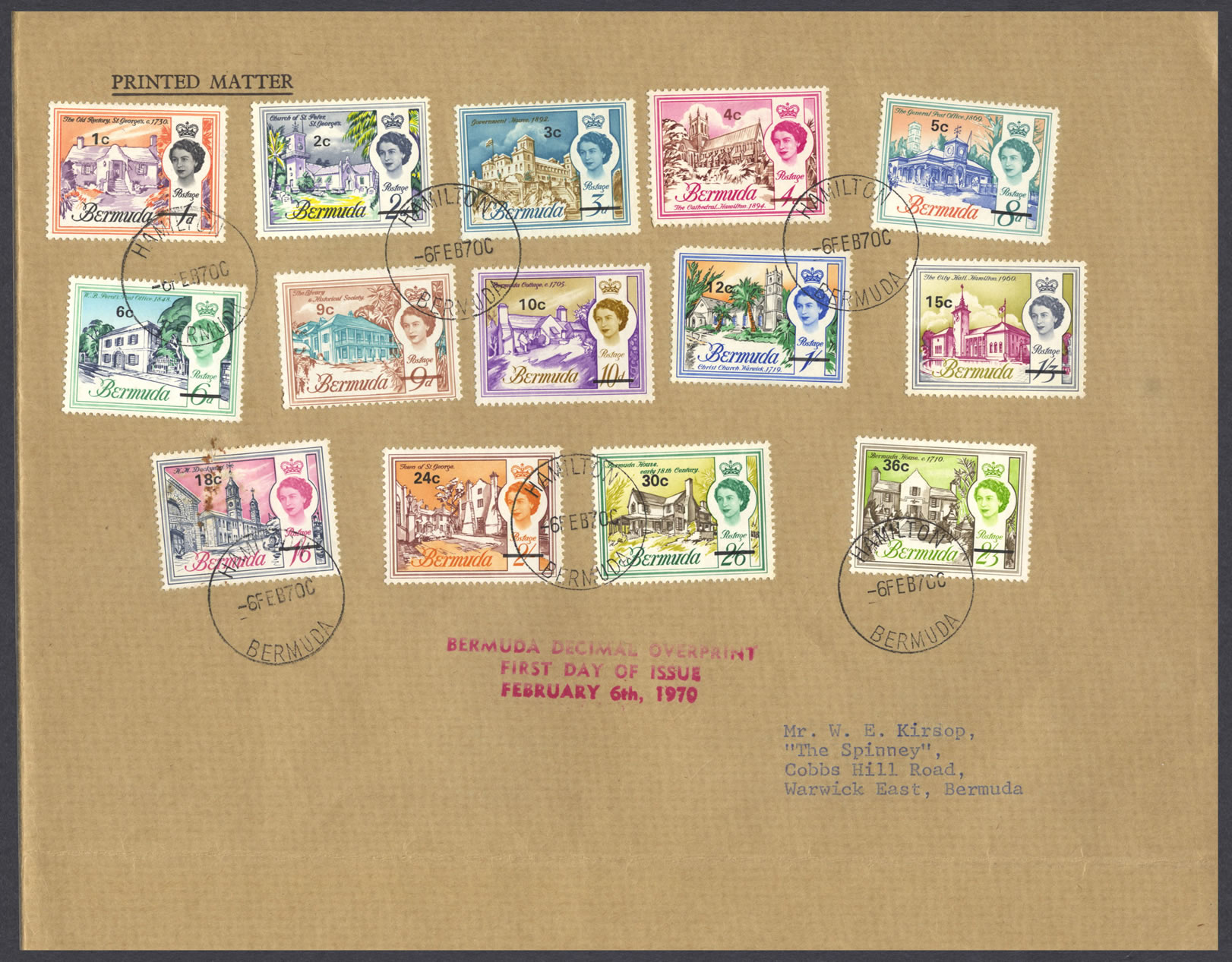 CDS: -6FEB70C HAMILTON BERMUDA
Address: Warwick East, Bermuda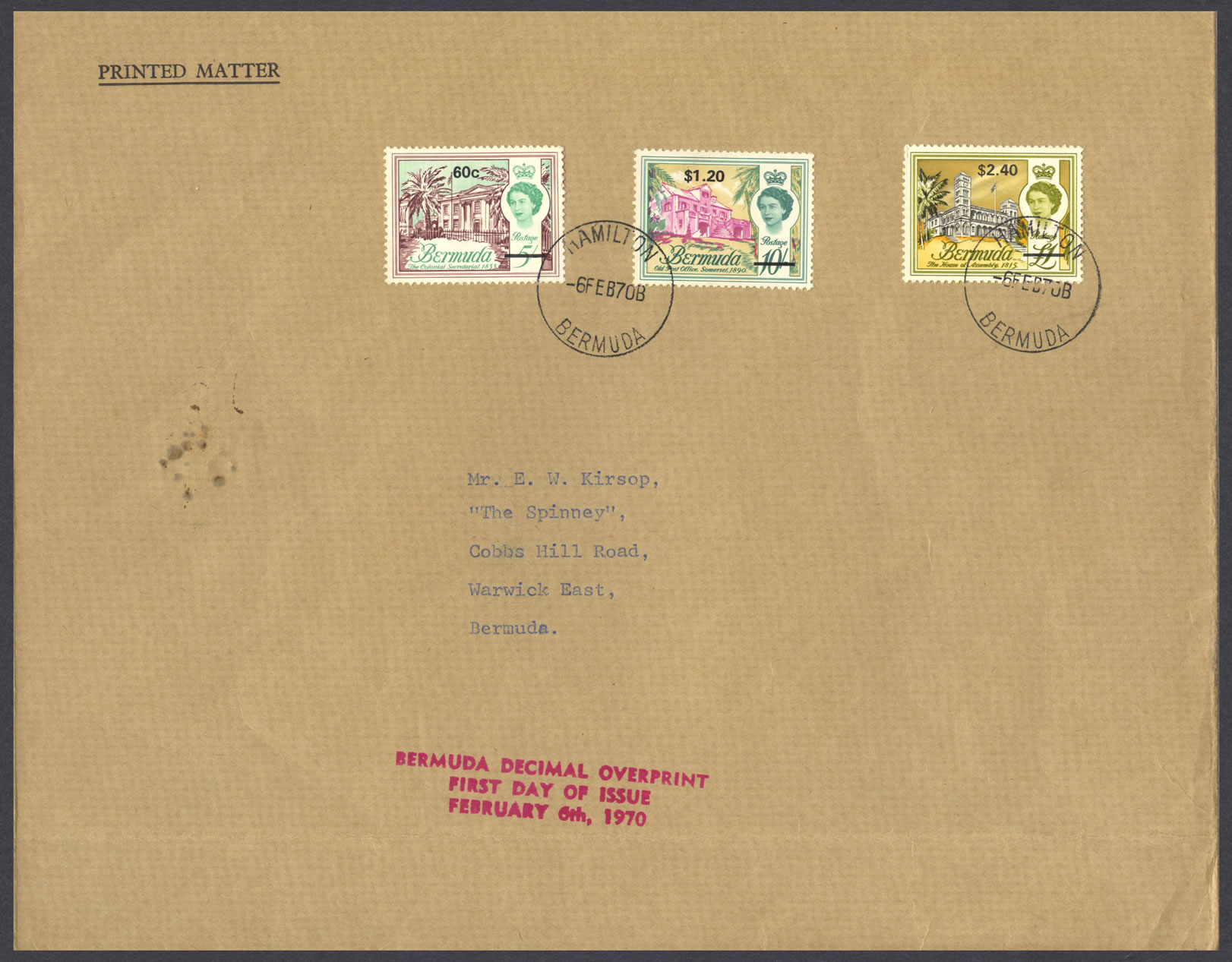 CDS: -6FEB70B HAMILTON BERMUDA
Address: Warwick East, Bermuda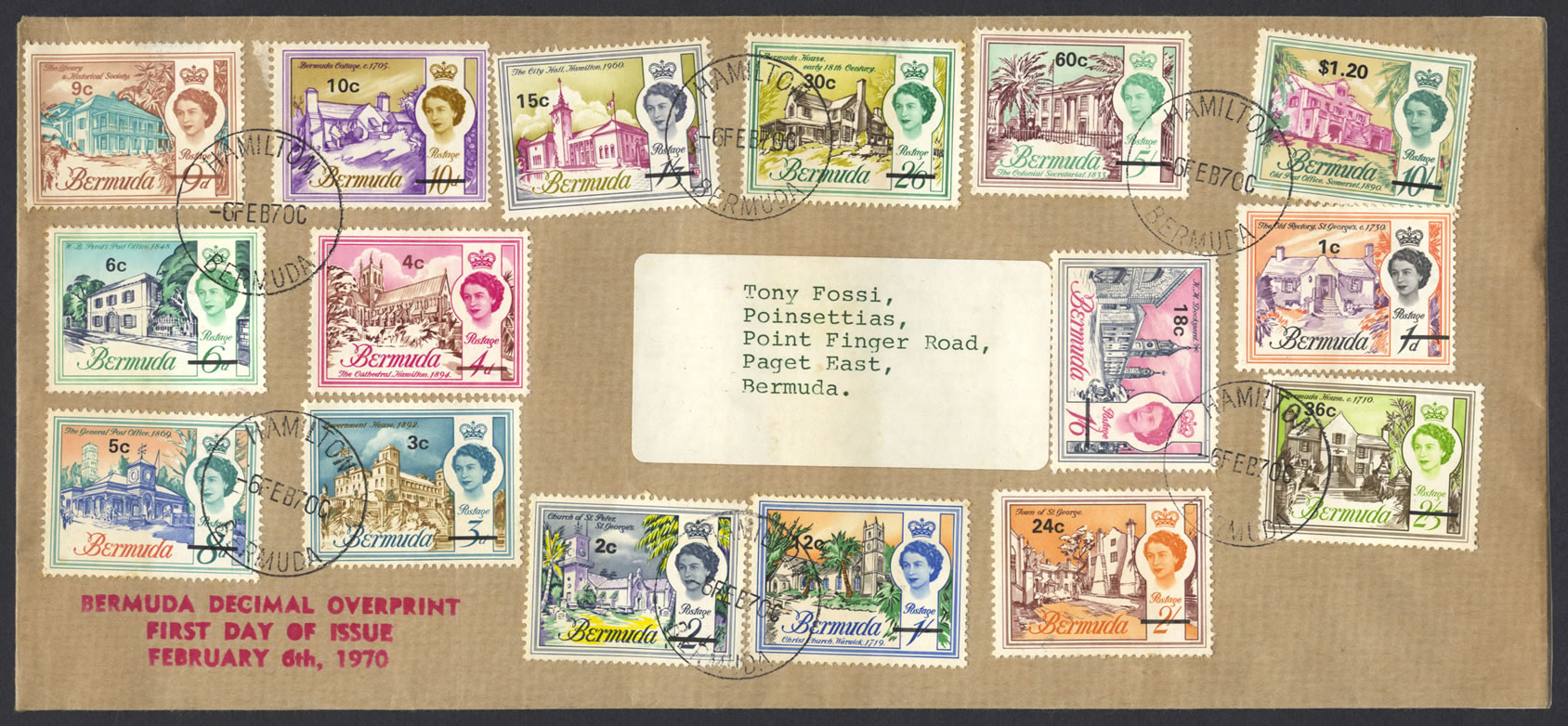 CDS: -6FEB70C HAMILTON BERMUDA
Address: Point Finger Road, Paget East, Bermuda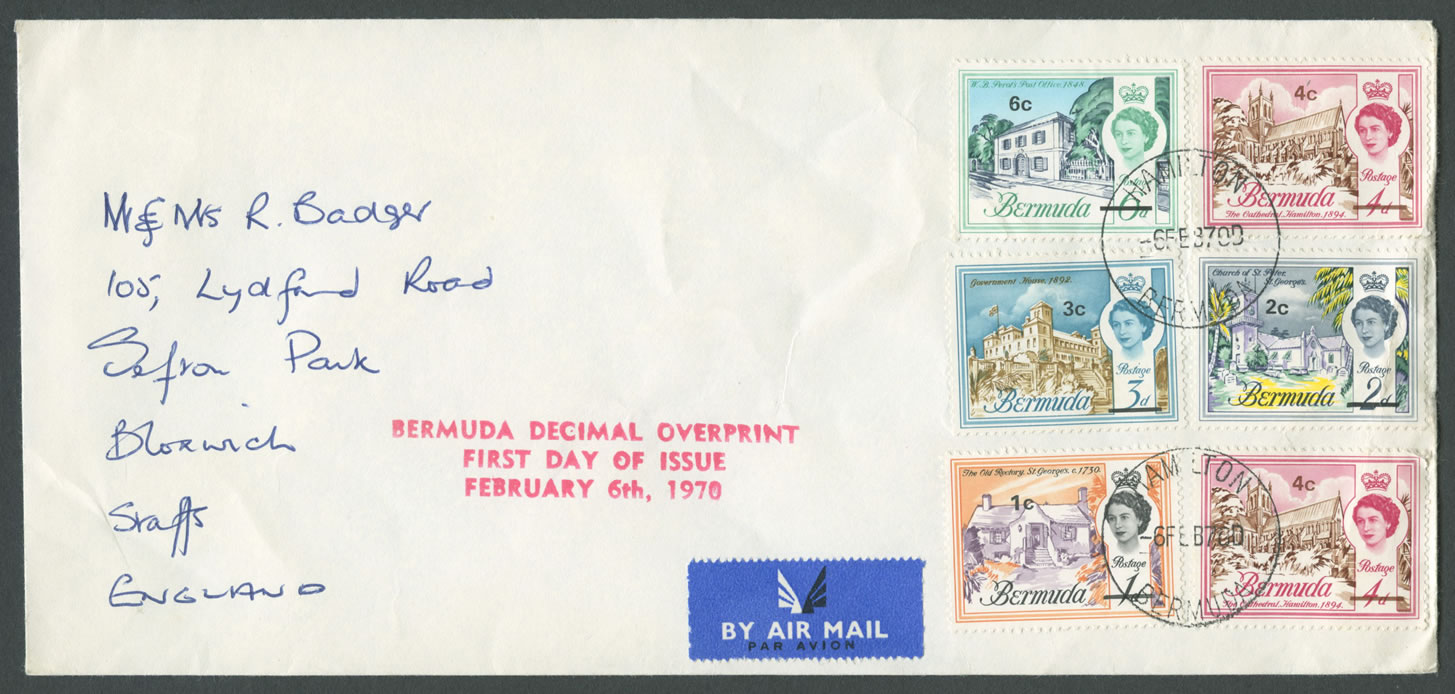 CDS: -6FEB70D HAMILTON BERMUDA
Label: BY AIR MAIL PAR AVION
Address: Bloxwich, Staffordshire, England
Press Release
BERMUDA NEWS BUREAU
610 Fifth Ave. New York, N. Y. 10020
50 Front Street, Hamilton, Bermuda
85 Richmond Street, West Toronto 110, Ontario, Canada
6 North Michigan Ave., Chicago, Illinois 60602
Sackville House, 40 Piccadilly, London W1V ONU, England
7002-2A
BERMUDA'S OVERPRINTED STAMPS EXPECTED TO STIR PHILATELIC INTEREST
HAMILTON, BERMUDA (February 6) — Considerable philatelic interest is expected to be focused on this colony's overprinted postage stamps being released today.
The current definitive set is being overprinted as a result of the colony's switch to decimal currency. Postal authorities are not revealing the exact number being released, to avoid speculation by stamp dealers.
All stamps, with the exception of two, are overprinted in the dollar equivalent of the original value. The two exceptions are the eightpence (now five cents, rather than eight) and the two shillings and thruppence (now 36 cents, rather than 30). These changes are due to the recent alteration of postage rates. The overprints were done in the United Kingdom as a temporary measure until the release of a new definitive issue of decimalized stamps, probably in June.
"While most countries issue numerous stamps annually, our limit rarely exceeds four commemorative sets," says Postmaster General Sydney Corbett. Because of this, the postmaster general says, Bermuda enjoys a good reputation with stamp dealers the world over.
The stamps now being overprinted were first released in 1962.
Regarding the stamps shown in the photo: The 4-cent stamp will be used for local first-class mail; the 15-cent stamp is primarily for air mail letters to North America, and the 18-cent to the U.K. and Europe. The former 1/- (one shilling) and £1 (one pound) stamps best illustrate the switch to decimal currency.
****
Coin Covers
Philatelic Numismatic Cover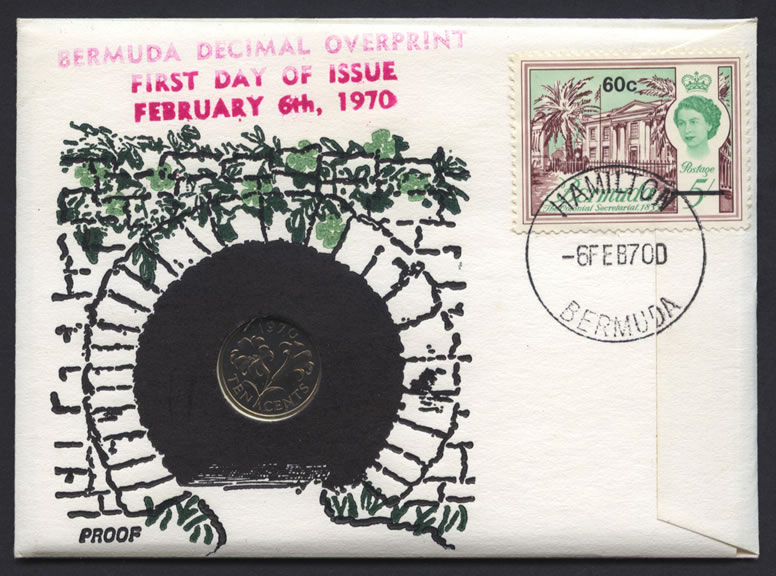 Coin: 1970 10c proof
CDS: -6FEB70D
Reverse: 99 Company, Gen'l Delivery, Local City / 99* U.S. Pat 3,371,851 *Trade Mark of 99 Company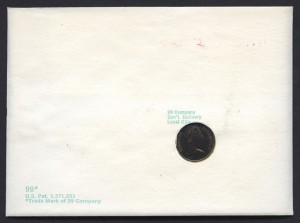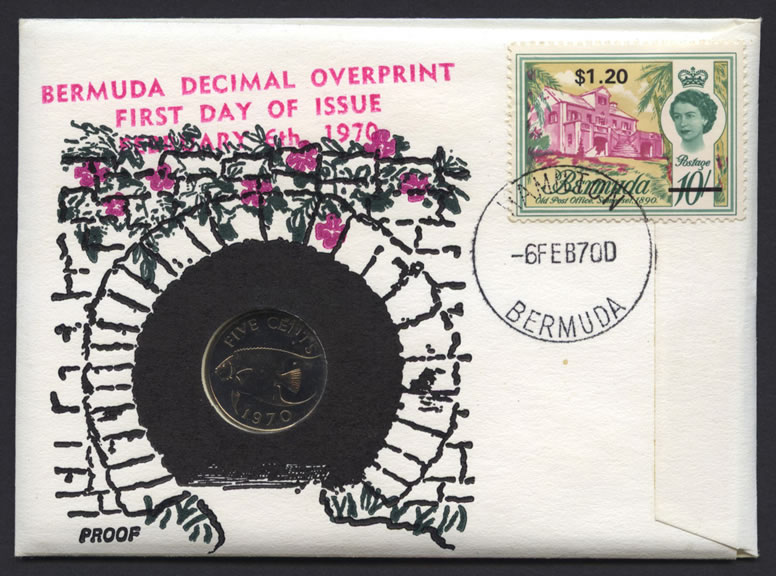 Coin: 1970 5c proof
CDS: -6FEB70D
Reverse: 99 Company, Gen'l Delivery, Local City / 99* U.S. Pat 3,371,851 *Trade Mark of 99 Company