Commemorating 100 years of the International Red Cross
Date: 2nd September 1963
Cachet: INTERNATIONAL RED CROSS, OMNIBUS ISSUE. FIRST DAY COVER 2ND. SEPTEMBER, 1963.
Stamps: Bermuda omnibus issue 3d and 1/3 INTERNATIONAL RED CROSS CENTENARY 1863-1963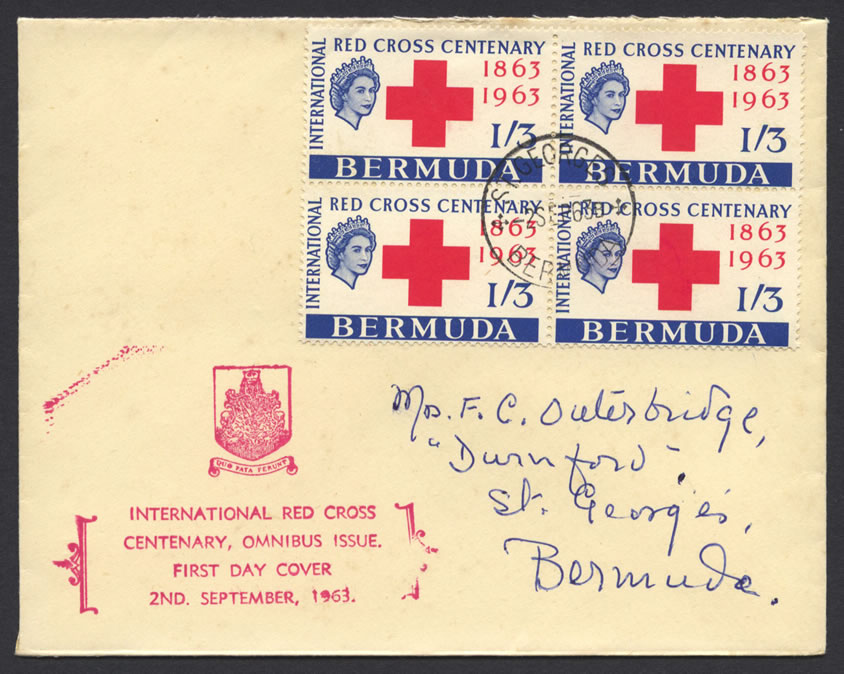 Type: OHMS First Day Cover
CDS: -2SEP63B ST. GEORGES BERMUDA
Address: Mrs F. C. Outerbridge, "Durnford", St. George's, Bermuda
Stamps: 1/3 block of 4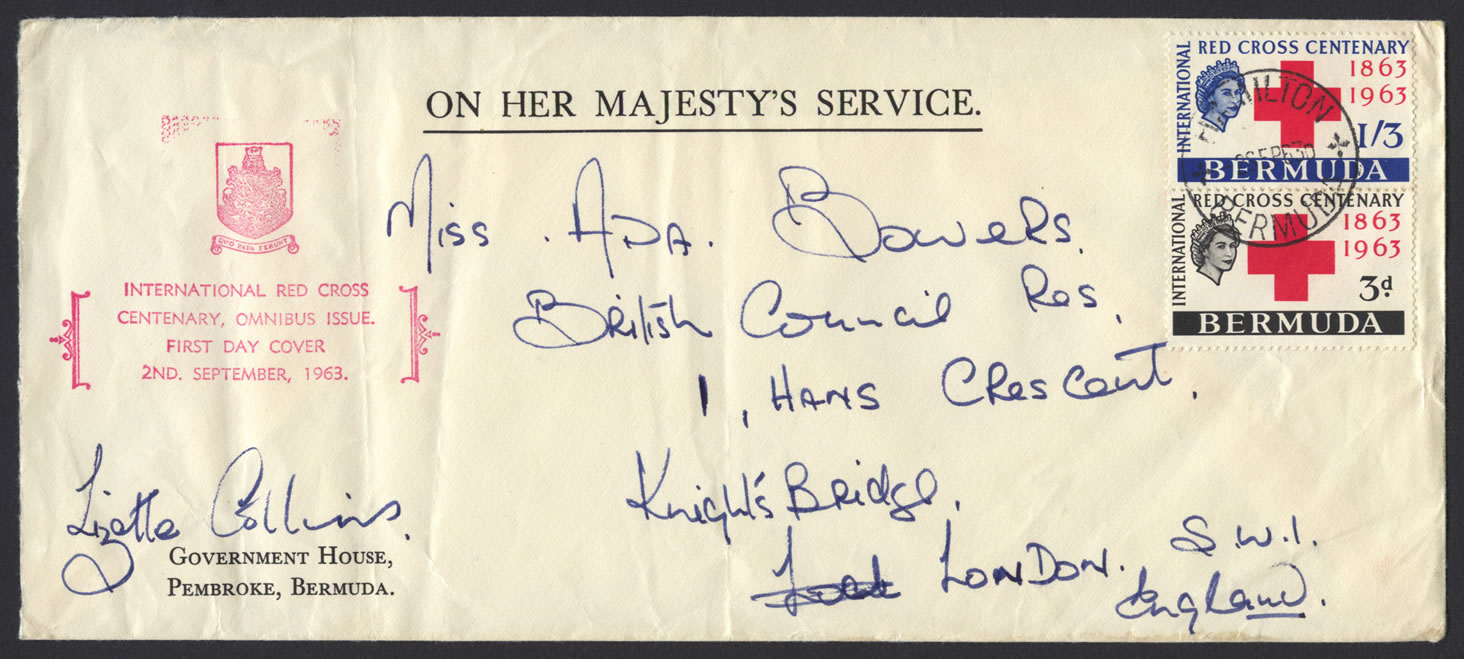 Type: OHMS First Day Cover
CDS: -2SEP63D HAMILTON BERMUDA
Envelope: #10 Envelope ON HER MAJESTY'S SERVICE. GOVERNMENT HOUSE, PEMBROKE, BERMUDA
Address: British Council Ros. 1, Hans Crescent, Knightsbridge, London SW1 England.
About the Omnibus issue
Key facts
Designer/Engraver: Victor Whitely
Printers: Bradbury Wilkinson & Co Ltd
Process: Lithography
Perforation: 13½
Watermark: Multiple St Edward's Crown Block CA
Release Date: 2nd September 1963
Issuing territories: 31 common design and 10 local designs
Number of stamps: 64 common design. Total of 107 stamps and 2 souvenir sheets
Red Cross.
Standard issue – list of issuing territories
Antigua
Ascension
Bahamas
Basutoland
Bechuanaland Protectorate
Bermuda
British Guiana
British Honduras
British Solomon Islands
Cayman Islands
Dominica
Falkland Islands
Fiji
Gambia
Gibraltar
Gilbert & Ellice Islands
Grenada
Hong Kong
Jamaica
Malta
Mauritius
Montserrat
New Hebrides Condominium
Pitcairn Islands
St Christopher-Nevis-Anguilla
St Helena
St Lucia
St Vincent
Seychelles
Federation of South Arabia
Swaziland
Tonga
Tristan da Cunha
Virgin Islands
Turks & Caicos Islands
Local design – list of issuing territories
Australia (1)
Cyprus (2)
Ghana (souvenir sheet 4 stamps)
Great Britain (3)
Kenya Uganda Tanganyika (4)
Maldive Islands (3)
Nigeria (3 + souvenir sheet)
Rhodesia and Nyasaland (1)
South Africa (2)
South West Africa (2)