Commemorating the Coronation
Date: 4th June 1953
Common Cachet: Stamped – ERII CORONATION QUEEN ELIZABETH II FIRST DAY COVER
Stamp: 1½d Bermuda omnibus issue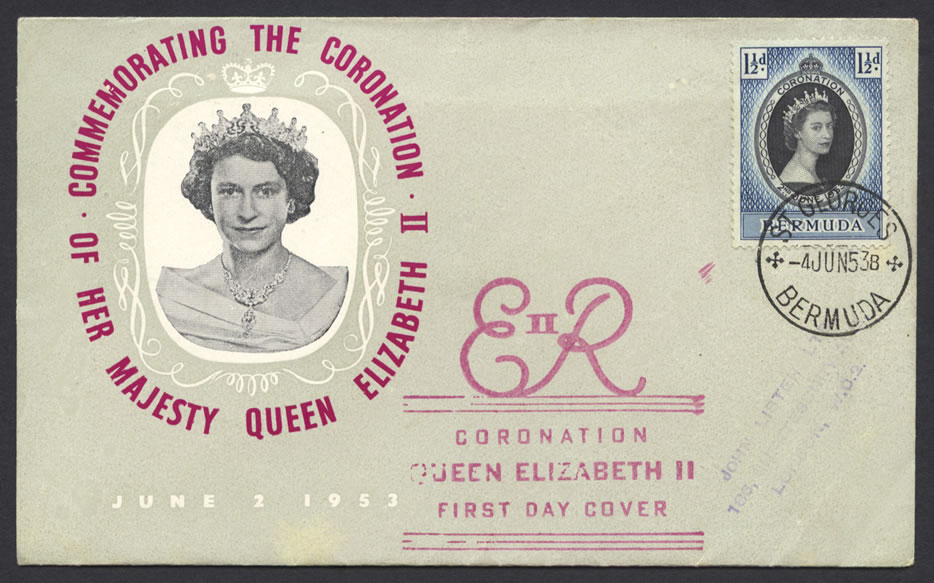 Type: First Day Cover
CDS: -4JUN53B ST. GEORGES BERMUDA
Cachet: COMMEMORATING THE CORONATION OF HER MAJESTY QUEEN ELIZABETH JUNE 2 1953
Address: John Lister Ltd. 186 Shaftesbury Avenue, London WC2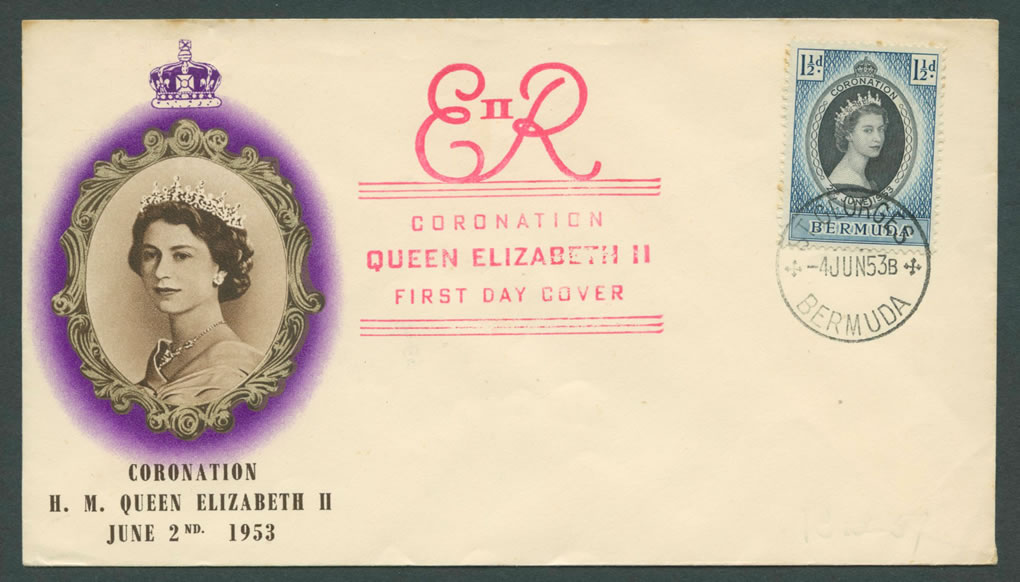 Type: First Day Cover
CDS: -4JUN53B ST. GEORGES BERMUDA
Cachet: Coronation H. M. Queen Elizabeth II June 2nd. 1953 (front). Issued by the authority of The British Philatelic Association & The Philatelic Traders' Society (reverse)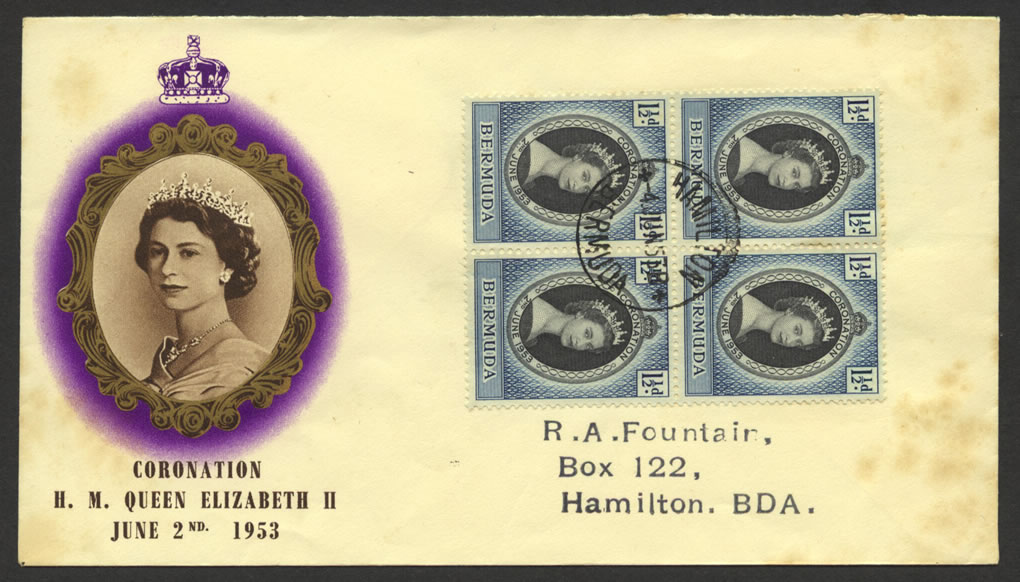 Type: First Day Cover
CDS: -4JUN53B HAMILTON BERMUDA
Cachet: Coronation H. M. Queen Elizabeth II June 2nd. 1953 (front). Issued by the authority of The British Philatelic Association & The Philatelic Traders' Society
(reverse)
Address: R. A. Fountain, Box 122, Hamilton, BDA.
Stamps: Block of 4 x 1½d Bermuda omnibus issue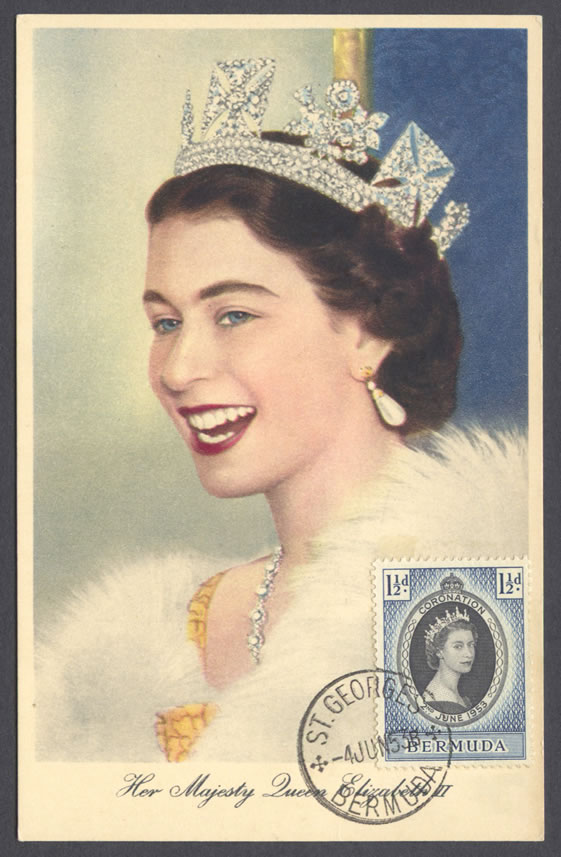 Type: First Day of Issue Postcard
CDS: -4JUN53B ST. GEORGES BERMUDA
Image and Text: Her Majesty Queen Elizabeth II
Postcard: TUCK'S POST CARD CARTE POSTALE. Seal: The World's Art Service Raphael Tuck & Sons Ltd. Seal:By Appointment Fine Art Publishers. Raphael Tuck & Sons Ltd. Fine Art publishers by appointment to the late King George VI, H.M. Queen Elizabeth the Queen Mother and H.M. Queen Mary. Printed in England No. 1168
Address: Mrs Raymond L. Myers, "Durnford Cottage", St. George's, Bermuda.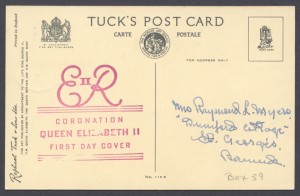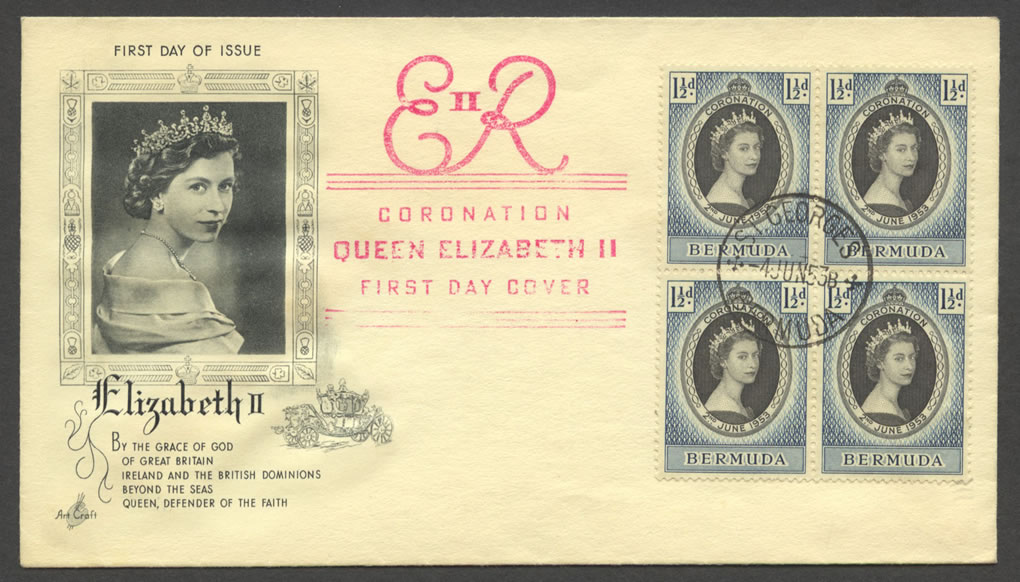 Type: First Day Cover
CDS: -4JUN53B ST. GEORGES BERMUDA
Cachet: FIRST DAY OF ISSUE Elizabeth II BY THE GRACE OF GOD OF GREAT BRITAIN AND THE BRITISH DOMINIONS BEYOND THE SEAS QUEEN, DEFENDER OF THE FAITH
Stamps: Block of 4 x 1½d Bermuda omnibus issue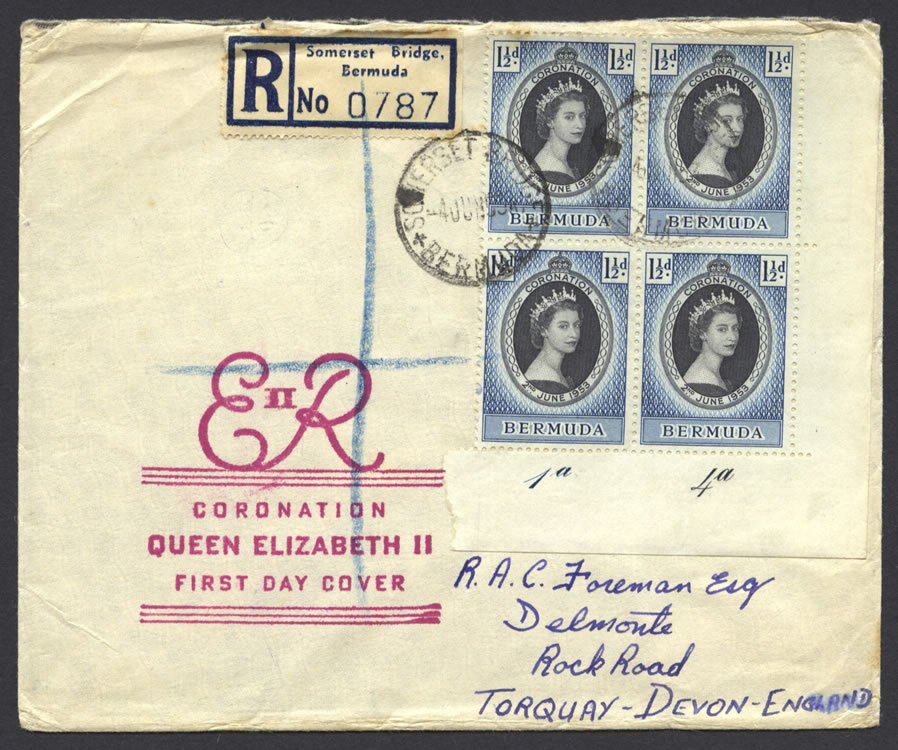 CDS: -4JUN53A SOMERSET BRIDGE BERMUDA
Registration Label: Somerset Bridge, Bermuda No. 0787
Address: Rock Road, Torquay, Devon, England
Stamp: Block of 4 x 1½d Bermuda omnibus issue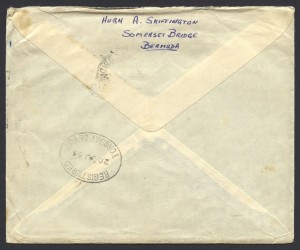 Backstamp: 20 JUN 53 REGISTERED TORQUAY DEVON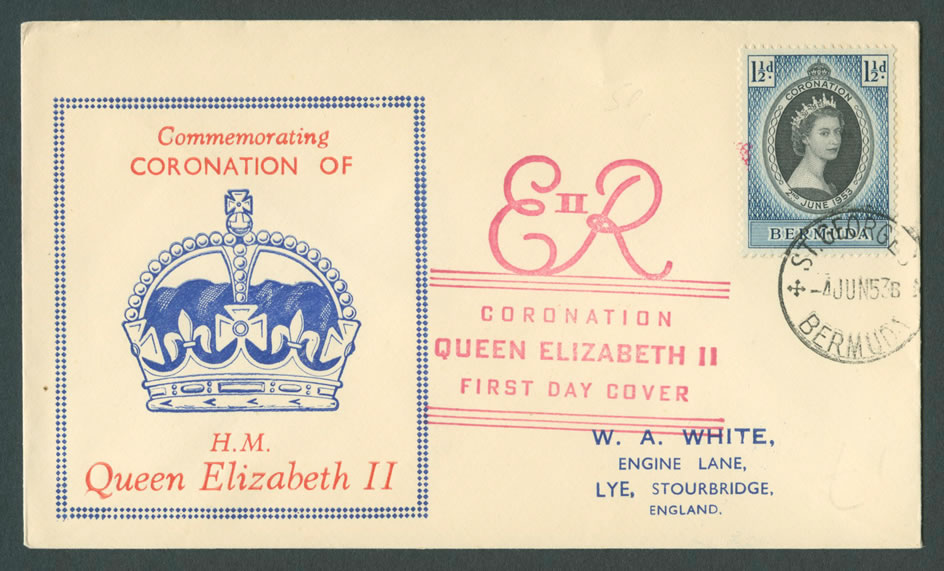 CDS: -4JUN53B ST. GEORGES BERMUDA
Printed cachet: Commemorating Coronation of H.M. Queen Elizabeth II
Address: W. A. White, Engine Lane, Lye, Stourbridge, England.
Envelope: Aspley Cream Laid. A John Dickinson Product (embossed reverse)
Stamp: 1½d Bermuda omnibus issue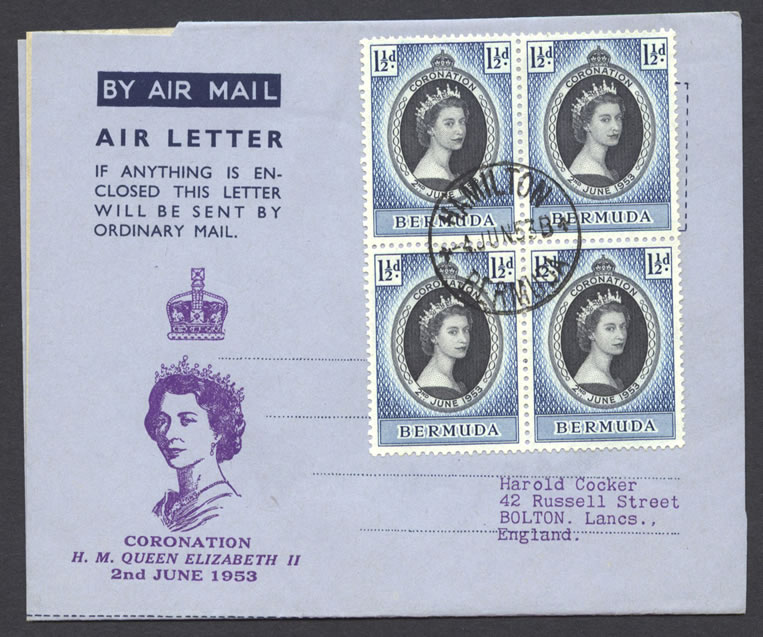 Type: Overprinted Air Letter
CDS: -4JUN53B HAMILTON BERMUDA
Overprinted cachet: CORONATION H. M. QUEEN ELIZABETH II 2nd JUNE 1953
Address: Harold Cocker, 42 Russell Street, Bolton, Lancs., England.
Envelope: The Aspley Air Letter. Form approved by Postmaster General No. 71995/IN Overprinted by Cocker of Bolton
Stamps: Block of 4 x 1½d Bermuda omnibus issue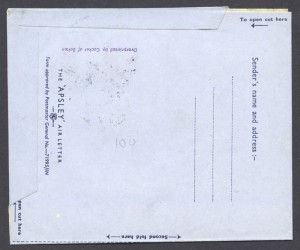 About the Omnibus issue
Key facts
Designer/Engraver: Bradbury Wilkinson & Co Ltd
Printers: De La Rue / Bradbury Wilkinson & Co Ltd
Process: Recess-Printed
Perforation: 13½ x 14
Watermark: Multiple Script CA
Release Date: 4th June 1953
Issuing territories: 62 common design and 16 local designs
Number of stamps: 106
Coronation issue
Standard issue – list of issuing territories
Aden
Aden – Kathiri State of Seiyun
Aden – Qu'aiti State of Shihr and Mukalla
Antigua
Ascension
Bahamas
Barbados
Basutoland
Bechuanaland Protectorate
Bermuda
British Guiana
British Honduras
British Solomon Islands
Cayman Islands
Cyprus
Dominica
Falkland Islands
Falkland Islands Dependencies
Fiji
Gambia
Gibraltar
Gilbert & Ellice Islands
Gold Coast
Grenada
Hong Kong
Jamaica
Kenya Uganda Tanganyika
Leeward Islands
Malaya – Johore
Malaya – Kedah
Malaya – Kelantan
Malaya – Malacca
Malaya – Negri Sembilan
Malaya – Pahang
Malaya – Penang
Malaya – Perak
Malaya – Perlis
Malaya – Selangor
Malaya – Trengganu
Malta
Mauritius
Montserrat
New Hebrides Condominium
Nigeria
North Borneo
Northern Rhodesia
Nyasaland
Pitcairn Islands
St Helena
St Christopher Nevis Anguilla
St Lucia
St Vincent
Sarawak
Seychelles
Sierra Leone
Malaya Singapore
Somaliland Protectorate
Swaziland
Trinidad and Tobago
Tristan Da Cunha
Turks and Caicos Islands
Virgin Islands
Local design – list of issuing territories
Australia (3)
Bahrain (GB overprints)
British Postal Agencies in Eastern Arabia* (GB overprints)
Canada (1)
Ceylon (1)
Cook Islands (2)
Great Britain (4)
Kuwait (GB overprints)
Morocco Agencies – Tangier (GB overprints)
New Zealand (5)
Nieu (2)
South Africa (1)
South West Africa (5)
Southern Rhodesia (1)
Tokelau Islands (1)
Westerm Samoa (2)
*British Postal Agencies in Eastern Arabia issued early postage stamps used in Abu Dhabi, Bahrain, Dubai, Kuwait, Muscat and Qatar. Muscat and Dubai relied on Indian postal administration until 1 April 1948 when, following the Partition of India, British agencies were established there. Two agencies were opened in Qatar: at Doha (August 1950) and Umm Said (February 1956). In Abu Dhabi, an agency was opened on Das Island in December 1960 and in Abu Dhabi City on 30 March 1963. The agencies also supplied stamps to Bahrain until 1960; and to Kuwait during shortages in 1951–53.
The agency in Dubai issued the Trucial States stamps on 7 January 1961. As each state took over its own postal administration, the offices closed. Closure dates were: Qatar on 23 May 1963; Dubai on 14 June 1963; Abu Dhabi on 29 March 1964; finally Muscat on 29 April 1966.