25 years of marriage of King George VI and Queen Elizabeth
Date: 1st December 1948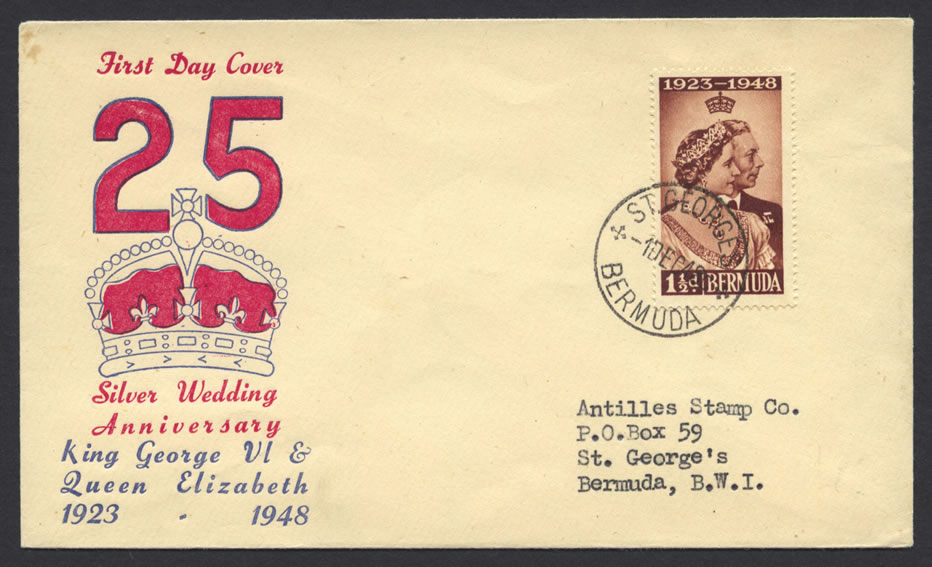 Type: First Day Cover
CDS: -1DEC48C ST. GEORGE'S BERMUDA
Cachet: First Day Cover 25 Silver Wedding Anniversary, King George VI & Queen Elizabeth 1923 – 1948
Address: Antilles Stamp Co., P.O. Box 59, St. George's, Bermuda, B.W.I.
Stamps: KGVI 1923-1948 1½d omnibus commemorative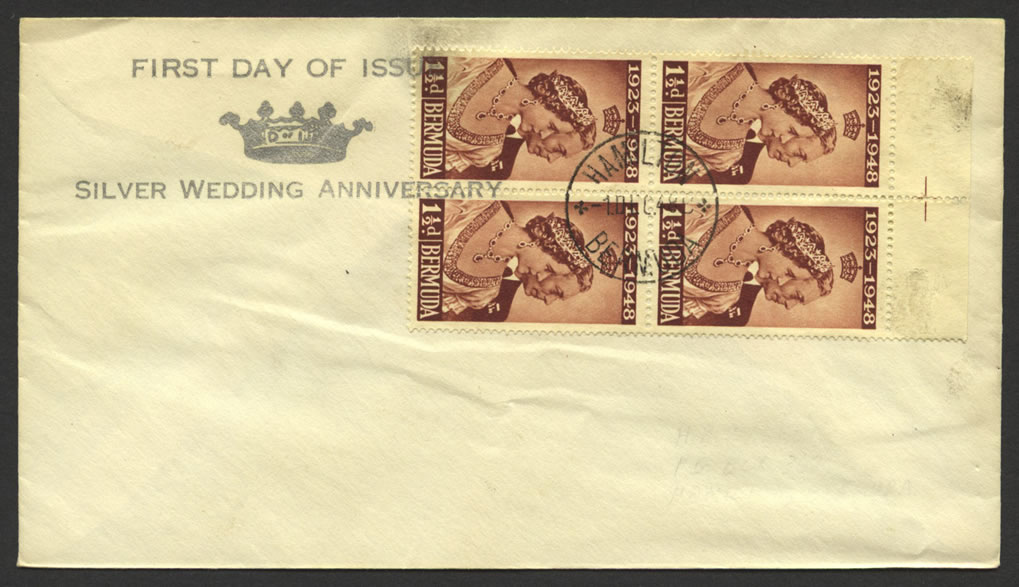 Type: First Day Cover
CDS: -1DEC48B HAMILTON BERMUDA
Cachet: FIRST DAY OF ISSUE SILVER WEDDING ANNIVERSARY
Stamps: KGVI 1923-1948 1½d omnibus commemorative block of 4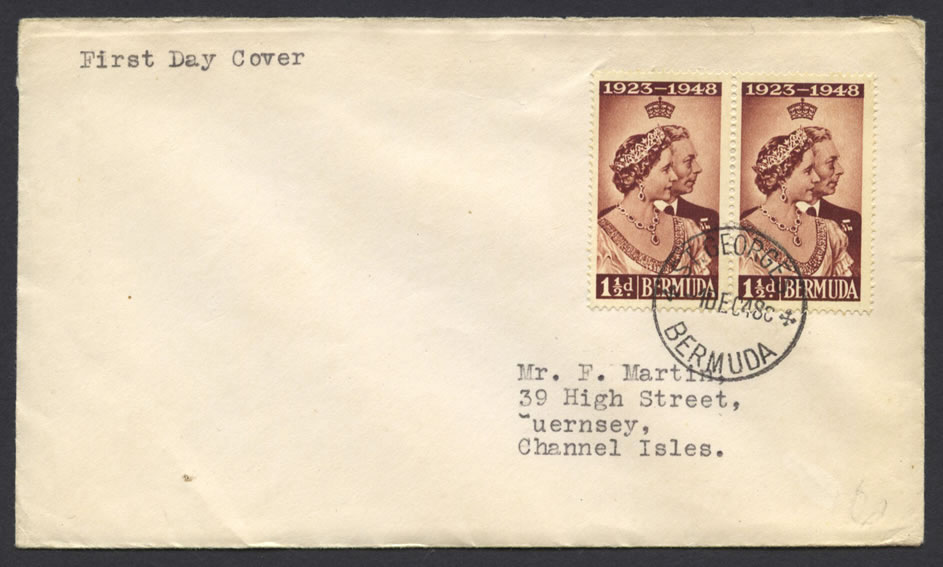 Type: First Day Cover
CDS: -1DEC48C ST. GEORGE'S BERMUDA
Address: Mr. F. Martin, 39 High Street, Guernsey, Channel Isles
Stamps: 1923-1948 1½d omnibus commemorative
About the Omnibus issue
Key facts
Designer: Waterlow and Sons Limited / Bradbury Wilkinson & Co, Ltd
Printer: Waterlow and Sons Limited / Bradbury Wilkinson & Co, Ltd
Process: Photogravure / Recess-Printed
Perforation: n/a
Watermark: Multiple Script CA
Release Date: 1st December 1948
Issuing territories: 60 + 8 GB and local designs
Number of stamps: 138
The Royal Silver Wedding of King George VI and Queen Elizabeth was commemorated by stamps after the Post Office had faced criticism with its failure to issue stamps for the wedding of Princess Elizabeth in 1947, and the valuable revenue lost as a consequence. There were two Great Britain stamps, 2½d, and a £1 aimed primarily at collectors. The Empire and Commonwealth issues had similar local values.
Due to the late decision, initial thoughts were to adapt designs originally developed for the Coronation of King Edward VIII showing famous landmarks, with the portraits of the King and Queen as used on their King George VI Coronation stamps. Artists were approached, and essays produced on these lines – albeit new photographic portraits had been taken – but did not find favour with the King, who referred to a simple portrait approach used by Belgium in 1935.
New designs were developed along the King's preferred option of simple portraits and designs by Harrisons' staff artist G T Knipe for the 2½d, and by Joan Hassall for the £1 (lack of time prevented the £1 being line-engraved) were approved.
The GB stamps were issued on the anniversary, 26 April 1948, although distribution of the £1 was somewhat restricted. Both values were overprinted for British Postal Agencies overseas (Tangier, Morocco Agencies, Kuwait, Bahrain and British Postal Agencies in Eastern Arabia).
List of issuing territories
Aden
Aden – Seiyun
Aden – Shihr and Mukalla
Antigua
Ascension
Bahamas
Barbados
Basutoland
Bechuanaland
Bermuda
British Guiana
British Honduras
British Solomon Islands
British Virgin Islands
Cayman Islands
Cyprus
Dominica
Falkland Islands
Falkland Islands Dependencies
Fiji
Gambia
Gibraltar
Gilbert & Ellice Islands
Gold Coast
Grenada
Hong Kong
Jamaica
Kenya Uganda Tanganyika
Leeward Islands
Malaya – Johore
Malaya – Kedah
Malaya – Kelantan
Malaya – Malacca
Malaya – Negri Sembilan
Malaya – Pahang
Malaya – Penang
Malaya – Perak
Malaya – Perlis
Malaya – Selangor
Malaya – Trengganu
Malta
Mauritius
Montserrat
Nigeria
North Borneo
Northern Rhodesia
Nyasaland
Pitcairn Islands
St Helena
St Kitts-Nevis
St Lucia
St Vincent
Sarawak
Seychelles
Sierra Leone
Singapore
Somaliland Protectorate
Trinidad & Tobago
Turks & Caicos Islands
Zanzibar
Local design – list of issuing territories
Bahrain (GB overprint)
British Postal Agencies in Eastern Arabia* (GB overprint)
Great Britain
Kuwait (GB overprint)
Morocco Agencies – Spanish Currency (GB overprint)
Morocco Agencies – Tangier (GB overprint)
South Africa (2 billigual pair)
South West Africa (2 South Africa billigual pair overprint)
*British Postal Agencies in Eastern Arabia issued early postage stamps used in Abu Dhabi, Bahrain, Dubai, Kuwait, Muscat and Qatar. Muscat and Dubai relied on Indian postal administration until 1 April 1948 when, following the Partition of India, British agencies were established there. Two agencies were opened in Qatar: at Doha (August 1950) and Umm Said (February 1956). In Abu Dhabi, an agency was opened on Das Island in December 1960 and in Abu Dhabi City on 30 March 1963. The agencies also supplied stamps to Bahrain until 1960; and to Kuwait during shortages in 1951–53.
The agency in Dubai issued the Trucial States stamps on 7 January 1961. As each state took over its own postal administration, the offices closed. Closure dates were: Qatar on 23 May 1963; Dubai on 14 June 1963; Abu Dhabi on 29 March 1964; finally Muscat on 29 April 1966.