Commemorating the Olympic Games of 1984
Date: 19th July 1984
Stamps: 12c Swimming; 30c Track & Field Events; 40c Equestrian and $1 Sailing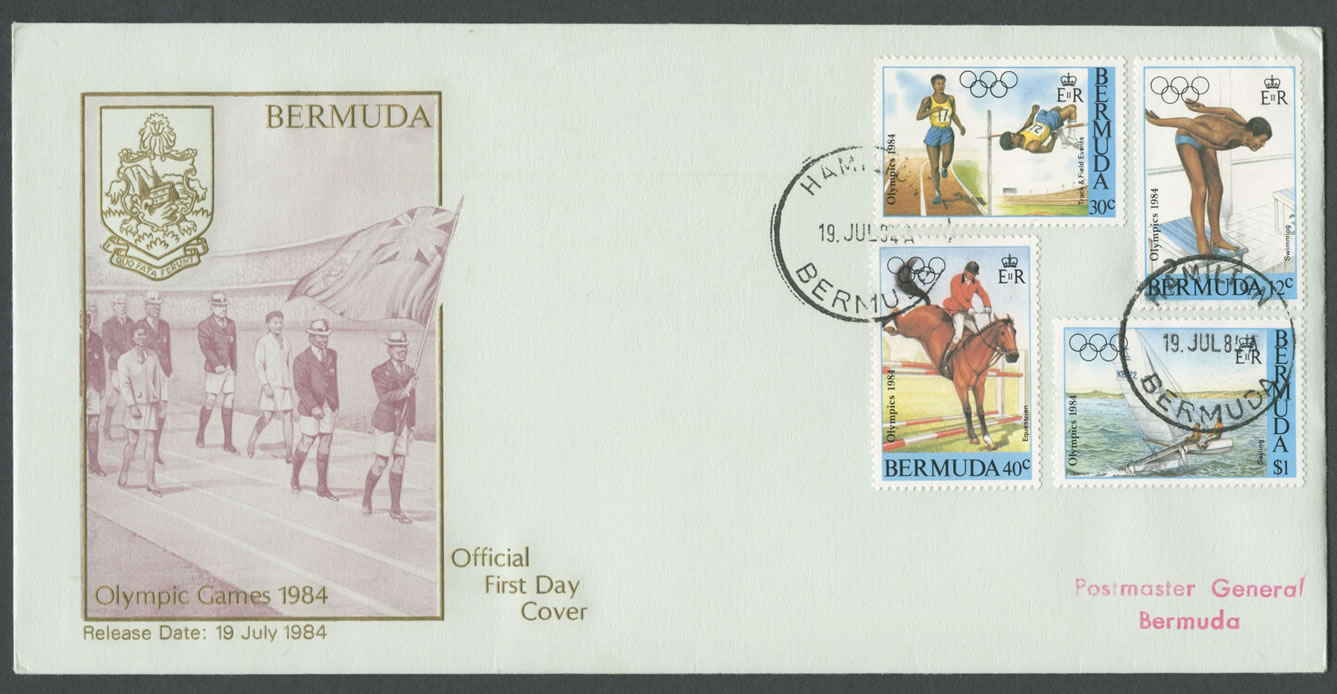 Type: Official First Day Cover
CDS: 19.JUL84A HAMILTON BERMUDA
Cachet: BERMUDA Olympic Games 1984. Official First Day Cover. Release Date: 19 July 1984.
Address: Postmaster General Bermuda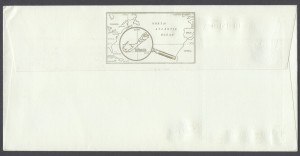 THE BERMUDA OLYMPIC ASSOCIATION
OLYMPIC STAMP ISSUE
Baron Pierre de Coubertin in June, 1894 proposed the foundation of an International Olympic Committee, and this was the prelude to the first of the modern Olympic Games held in Athens in 1896.
Bermuda joined the Olympic movement and participated for the first time in 1936 when they attended the Berlin Games and has been represented on every occasion since then, except for the 1980 Olympics held in Moscow.
Two Bermudians have been recognized by the International Olympic Committee for distinguished service to the Olympic movement; they are Mr. W. F. (Chummy) Hayward, O.B.E., who received the Prix de la Reconnaissance Olympique in 1973 and Mr. D. J. Williams, who received the Bronze Medal of the Olympic Order in 1982.
Bermuda won its only medal in 1976 at Montreal when Clarence Hill received the Bronze Medal in the Heavyweight Boxing division.
Bermuda win be represented in Los Angeles in July, 1984 in Sailing, Track & Field, Swimming and Equestrian events, and this will perhaps be the stongest contingent ever to participate including, among others:-
Sailing: A. Burland, C. Nash, H. Watlington, A. Outerbridge
Equestrian: P. Gray
Swimming: V. Ruberry
Track & Field: C. Saunders
While these sportsmen have at the time of writing qualified in their respective events there are many others still trying and some who have been eliminated including our footballers who did well in the qualifying round. Bermuda's participation in the Olympic Games has been dominated over the years not unnaturally by our representation in aquatic sports with yachting in the forefront but well supported by diving, rowing and swimming. Our representation in track & field events has been increasing with a bumper squad of 13 in 1976.
In 1968 the Post Office brought out a 4 stamp issue to commemorate the occasion – our first and until now our only Olympic Issue.
To all our competitors we extend our good wishes and may good fortune attend their efforts.
Technical Details
Designer: Chris Collins
Printer: Waddingtons Ltd.
Process: Lithography
No. of stamps per sheet: 50 (2 x 25)
Stamp size: 28.45 x 42.58 mm
Values: 12c, 30c, 40c, $1
Paper: Crown Agents spiral watermarked
Release date: 19th July 1984