Posted on the High Seas on the Ocean Monarch
Type: Paquetbot Cover
Date: 21st July 1952
CDS: 21JUL52B PAQUETBOT BERMUDA
Cachet: OCEAN MONARCH POSTED ON THE HIGH SEAS
Address: Gustav J. Lund, 3861 Alhambra Way, Martinez, Calif., U.S.A.
Stamp: Great Britain 2½d 1851-1951 Festival of Britain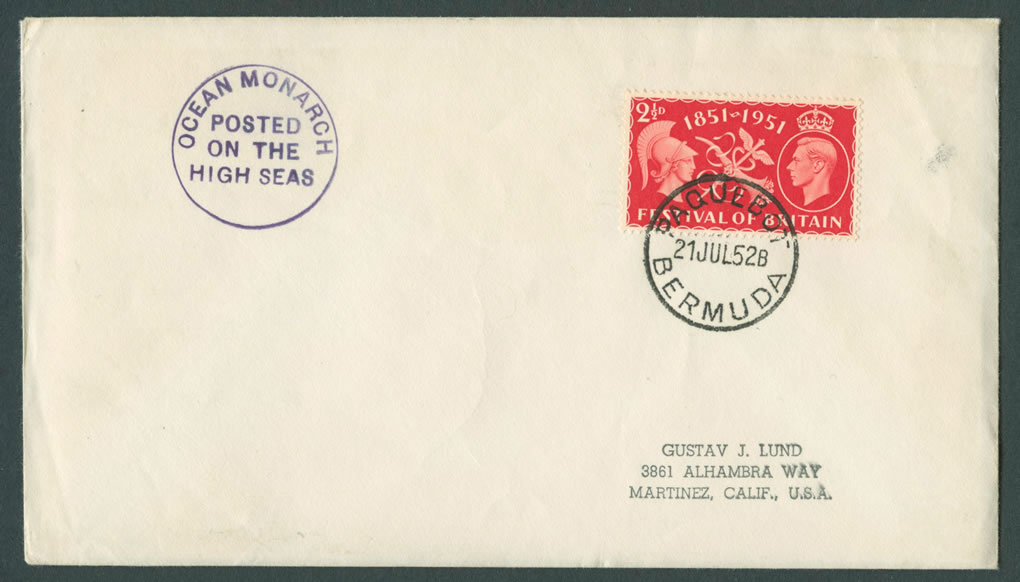 About the Ocean Monarch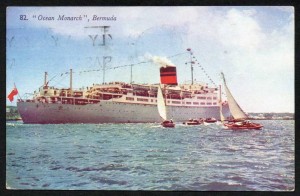 Ocean Monarch was built by Vickers-Armstrongs Ltd, Walker, Newcastle-upon-Tyne. She was launched on 27th July 1950 and completed in March 1951.  She was the first postwar-built ship designed especially for the American cruise market. Ocean Monarch was used on the New York – Bermuda route. As well as conveying passengers she was used to supply fresh drinking water to the island. She served with Furness Withy until 1966. On 22nd September she was laid up in the River Fal, Cornwall.
In 1967, she was sold to Navigation Maritime Bulgare and renamed Varna. Operated by Balkantourist she was used on cruises from Montreal, Canada before being laid up in 1970 at Perama, Greece. In 1973, Varna was chartered by Sovereign Cruises for two voyages and then laid up again. Her name was changed to Venus in 1977, and Riviera in 1978. in 1979, she was refurbished for use by Trans-Tirreno Express.
She was chartered by SUR-Seereisen, Germany for a series of Mediterranean cruises in summer 1981 and with a name change to Reina del Mar. The ship was renovated in Ambelakia, Salamis Island in Greece, before the cruises. On 28 May 1981 fire gutted the passenger accommodation and the ship was towed away. The tow parted and Reina del Mar ran aground. After being refloated, she was moored near Rasa Sayang, which had also been gutted by fire. On 1 June 1981, a new fire broke out on Reina del Mar culminating  with her being scuttled off Kynosoura, Salamis Island.