Centenenary of the First Postage Stamp – The Perot Stamp
Type: First Day Cover
Stamped cachet: PEROT CENTENARY ISSUE / FIRST DAY COVER 11th APRIL 1949, BERMUDA
Stamps: 2½d, 3d and 6d Perot Provisional and Easter Lilies THE PEROT STAMP CENTENARY OF FIRST POSTAGE STAMP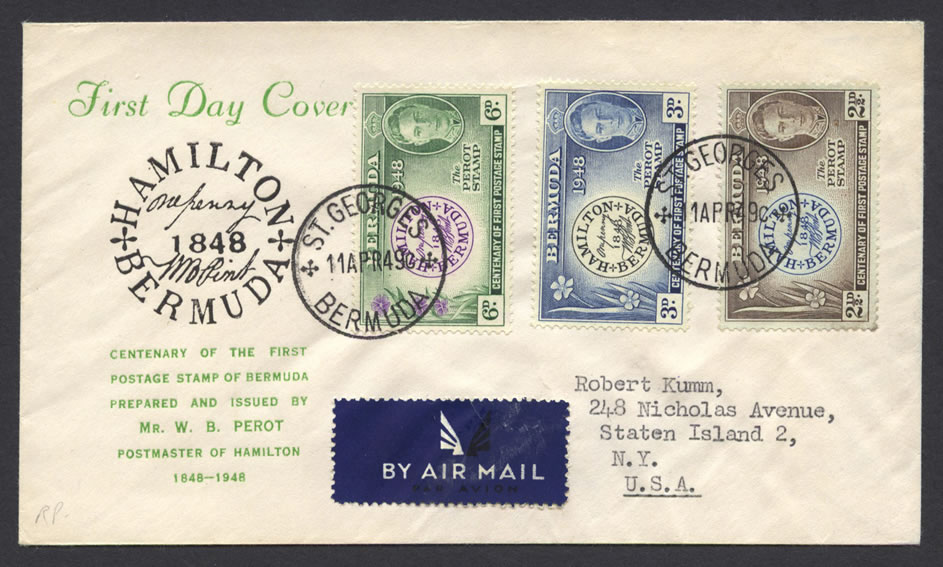 CDS: 11APR49C ST. GEORGES BERMUDA
Printed cachet: First Day Cover / CENTENARY OF THE FIRST POSTAGE STAMP PREPARED AND ISSUED BY MR. W. B. PEROT POSTMASTER OF HAMILTON 1848–1948
Backstamps: APR 13 1949 2 PM NEW YORK, N.Y AIR MAIL FIELD / APR 14 1949 STATEN ISLAND, N.Y. PORT RICHMOND STA. / APR 14 1949 STATEN ISLAND
Registration Label: ST. GEORGE'S, BERMUDA No 0620
Address: Robert Kumm, 248 Nicholas Avenue, Staten Island 2, N.Y. U.S.A.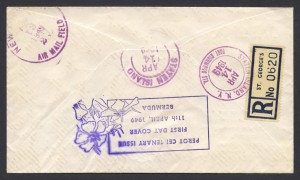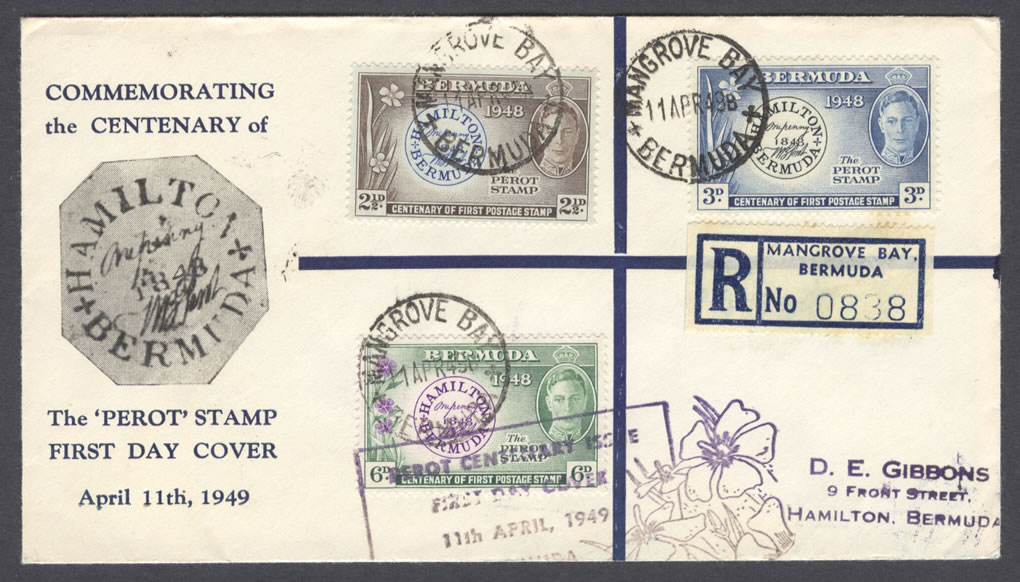 CDS: 11APR49B MANGROVE BAY BERMUDA
Printed cachet: COMMEMORATING the CENTENARY of The 'PEROT' STAMP FIRST DAY COVER April 11th, 1949
Registration Label: MANGROVE BAY, BERMUDA No 0838
Address: D. E. GIBBONS, 9 FRONT STREET, HAMILTON, BERMUDA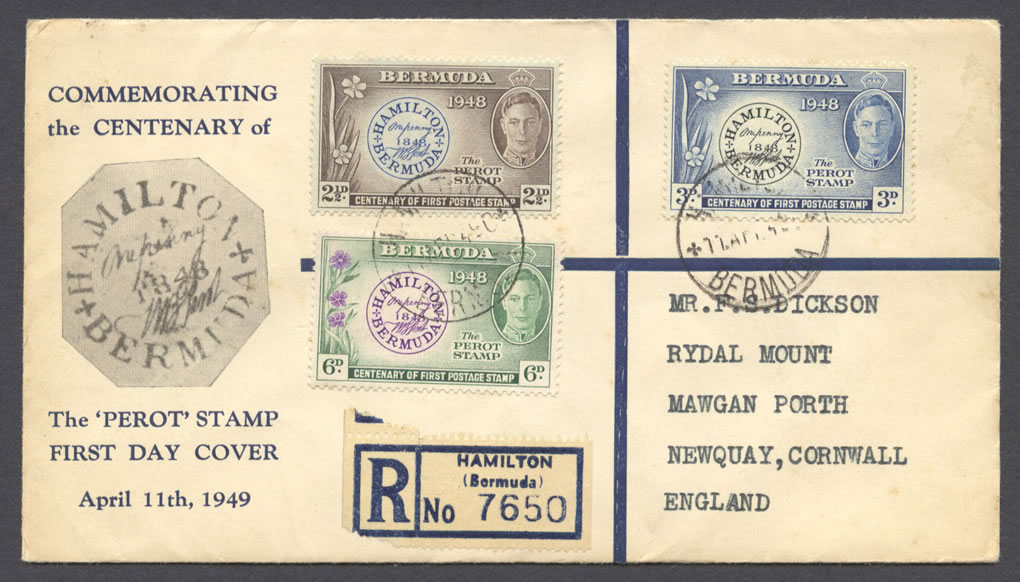 CDS: 11.APR49C HAMILTON BERMUDA
Address: MR. F.S. DICKSON, RYDAL MOUNT, MAWGAN PORTH, NEWQUAY, CORNWALL, ENGLAND
Registration Label: HAMILTON (Bermuda) No 7650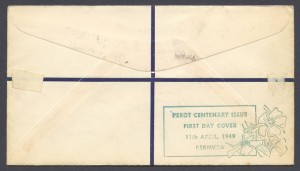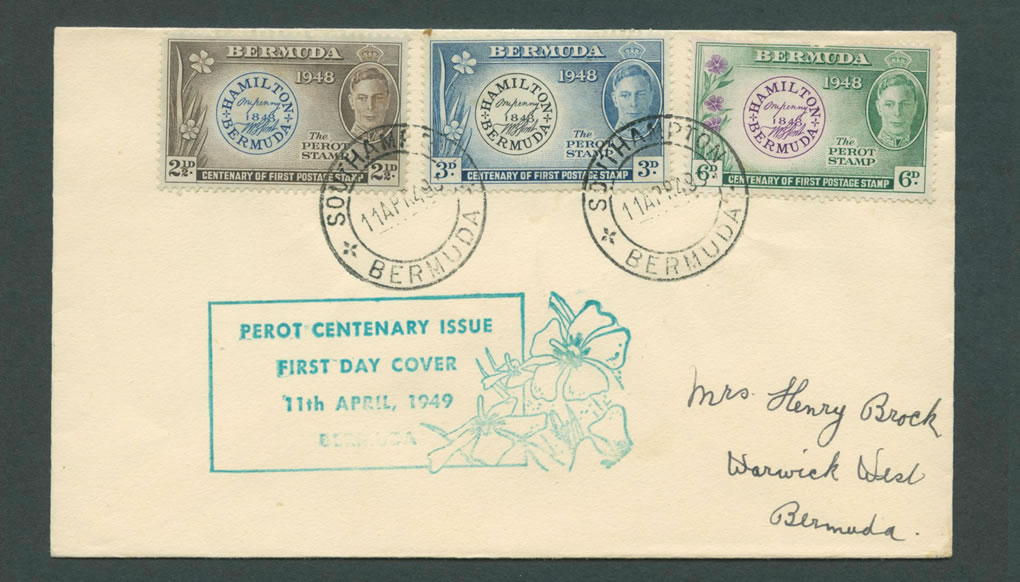 CDS: 11APR49C SOUTHAMPTON BERMUDA
Address: Mrs Henry Brock, Warwick West, Bermuda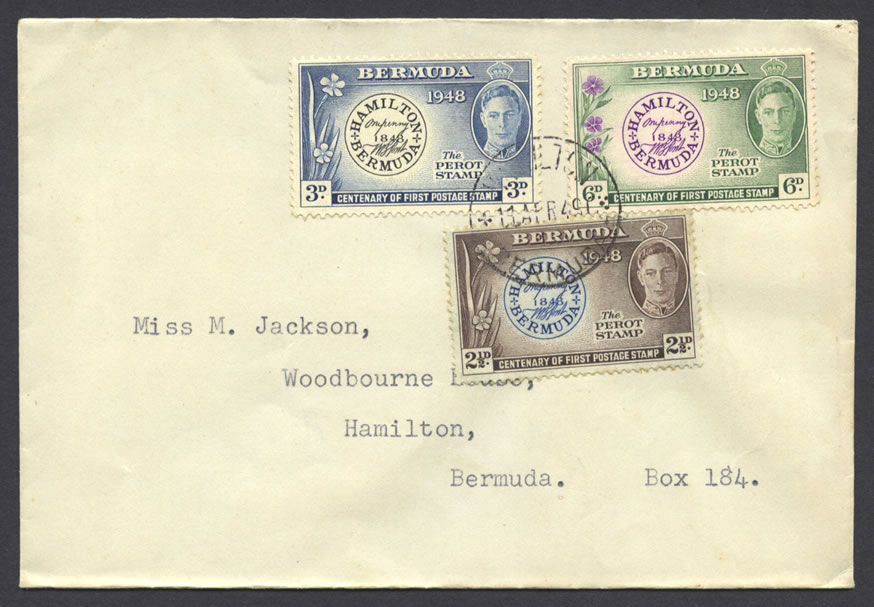 CDS: 11APR49C HAMILTON BERMUDA
Address: Miss M. Jackson, Woodbourne House, Hamilton, Bermuda. Box 184.